The Baltimore Ravens in partnership with the American Heart Association and Dairy Management Inc. launched the What Moves U program on Tuesday, Oct. 7.
The What Moves U program will challenge sixth-grade students from four area middle schools to be active for 60 minutes every day. Students who participate most frequently will be rewarded with Ravens prizes such as yoga mats, pedometers, stopwatches, posters, jump ropes and water bottles.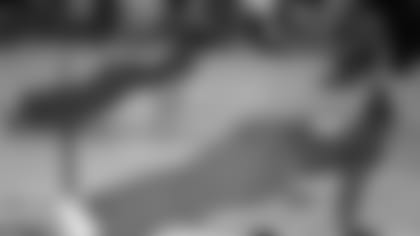 The six-week program kicked off with assemblies at Lime Kiln Middle School (Fulton, Md.) and Northwest Middle School (Taneytown, Md.).
The day, devoted to physical fitness and nutrition, began at Lime Kiln with a morning assembly, at which Ravens wideout Justin Harper and safety Haruki Nakamura spoke and demonstrated agility drills for the students. Nakamura and Harper shared stories from their youth of their parents encouraging them to get off the couch, go outside and be active. A representative from Mt. Washington Pediatric Hospital gave the students nutrition information and healthy snack options at the assembly.
Ravens receiver Mark Clayton raced Poe in an afternoon kickoff assembly at Northwest Middle. Clayton mentioned that his dedication to fitness began in middle school and made it possible for him to achieve his dream of playing professional football. The students at Northwest were overwhelmed with excitement when they got the opportunity to high-five and take pictures with Clayton. They were also eager to begin the What Moves U program and work toward the prizes that were displayed.
Top performers from each of the four participating middle schools will be awarded the grand prize of a trip to M&T Bank Stadium, which will include lunch with Ravens players in the locker room, a tour of the stadium and an iPod shuffle.
The What Moves U program will also be launched at Severna Park Middle School and Crossroads Middle School on Tuesday, Oct. 14.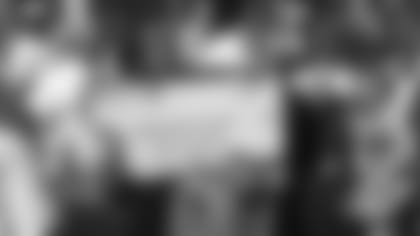 1226 N. Gilmor Street has been a very busy place for the past two months. The Baltimore home has undergone an incredible transformation with the help of Ravens players, cheerleaders, M&T Bank volunteers and members of the Lady Ravens Association. The volunteers worked diligently every Tuesday to refurbish the home, and on Oct. 7, they celebrated at the home dedication.
Ravens tight end Daniel Wilcox and the volunteers watched their sweat equity make an impact in the life of a deserving family as the keys were handed over to Dynetta Wilson, and daughter, Egypt.
The project was part of the NFL/United Way Hometown Huddle, which is a collection of hands-on volunteer projects performed by all 32 NFL teams simultaneously on a single day each year.
Sandtown Habitat is a charitable partner of the Ravens All Community Team Foundation, and the team has pledged consistent financial and volunteer support. The charitable arm presented the nonprofit organization with a check for $25,000 at the dedication.
Additionally, Ravens offensive tackle Jared Gaither visited with the football team at his alma mater, Eleanor Roosevelt High School (Greenbelt, Md.) on Tuesday. Gaither spoke to the 5-0 team and distributed Ravens items, in addition to a $1,500 equipment grant donated by USA Football.