On Saturday, October 29th, 20 pairs of "bigs" and "littles" traveled to the Ravens training facility at 1 Winning Drive to take part in the Big Sisters, Little Sisters Flag Football Clinic.
The chance for the big sisters and little sisters to connect further with each other and to play football where the Ravens practice was too much for this enthusiastic bunch of ladies to pass up, despite the unseasonably snowy weather.
Upon arrival, the ladies received their own Ravens flag football jerseys, which they donned with purple pride. Once outfitted for the day, the group was taken on a guided tour of the ultra-exclusive training facility, which ended in the team auditorium where team meetings are typically held.
When entering the auditorium, a few special guests were on hand to greet the group. Defensive tackle Art Jones, wide receiver Torrey Smith and cornerback Lardarius Webb all welcomed the energetic ladies to the place they call home during the season. After throwing a few questions the players' way, it was time for some football!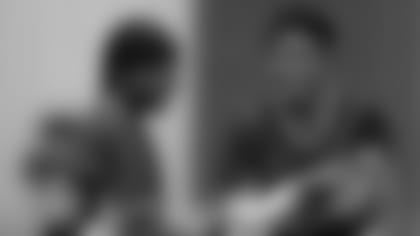 Inside the field house, the ladies were coached-up on all the football fundamentals. Running through quarterback progression training, pass patterns, linebacker pursuits, and zone and man coverage drills, the participants were preparing for their upcoming afternoon games to culminate the day.
Just like on Ravens gameday, a pregame meal was prepared for the players and a motivational speech delivered. Jennifer Franciotti from WBAL-TV provided the message that called the ladies – young and old – to dream big and know anything is possible if you believe in yourself. Franciotti closed by emphatically stating, "You are pretty. You are smart. You can do anything!"
As gametime arrived, the ladies were pumped up to show off their newly learned football skills. While players raced up and down the field putting points on the board for their teams, the games could have been easily confused for a dance party at times as DJ Ahmad cranked the Cupid Shuffle, Wobble and other fan favorites to keep the excitement ramped up.
Following the completion of the games, the ladies were awarded customized medals for their day of hard work on the field. More than the medals though, these "bigs" and "littles" will have a bonding experience they will never forget and a growing relationship with a "sister" that will endure just as long.