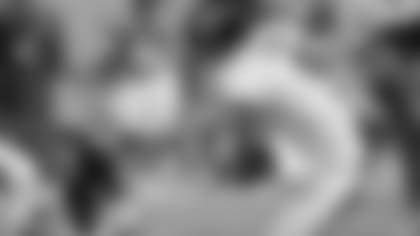 Justin Tucker is a full-service kicker. The man does it all.
Tucker nailed a 52-yard field goal in the second quarter of Thursday night's game in Miami, which was made even more difficult by poor field conditions at Hard Rock Stadium.
Minutes later, Tucker pulled off an even more rare play, recovering a fumble on his own kickoff.
Then he tried to take it one step further and score. That was when he was ultimately foiled.
Asked if he was trying to scoop-and-score, Tucker said, "100 percent."
"I was thinking scoop-seven," Tucker said. "Not a lot of guys can say that. It would have been pretty sweet, but that's all it is now – a would-have-been."
Tucker ran all the way down the field after the 62-yard kick and recovered a fumble by Dolphins returner Senorise Perry at the 18-yard line. Ravens undrafted linebacker Donald Payne punched the ball out, and it bounced toward the sideline.
Tucker was in the right place and scooped it up instead of falling on it. Unfortunately, Tucker was quickly pushed out of bounds for no gain. Also unfortunate is the fact that Tucker took a hit at all (generally don't want your kicker getting touched).
When Tucker got to the Ravens sideline, veteran teammate Terrell Suggs jokingly yelled (with some colorful language) at Tucker that he better never again dream about recovering a fumble and scoring.
"I think Suggs was about to strangle him when he came over," Head Coach John Harbaugh joked. "Tucker is not on the scoop-and-score list – except maybe in a critical game. But you can't be surprised."
By the way, Tucker also slammed a 27-yard field goal through the uprights five plays after pouncing on the fumble. He also later hit a 41-yard field goal and made an extra point while slipping and falling to the turf. Tucker joked that he kicked the ball with both feet.
The next time a teammate tries to tell Tucker that he's not a real football player, he'll have a stronger argument on his side.
"I don't ever let anybody put that evil on me as saying something as audacious as kickers aren't football players," Tucker said. "In a game where points win, your leading scorer is probably going to be the kicker. And I'm literally doing the most foot-ball thing in football. I'll leave it at that."