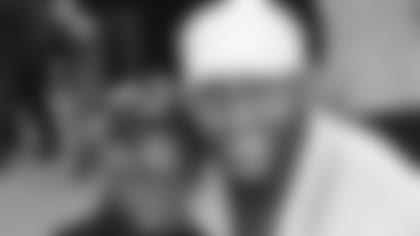 Ray Lewis Provides Gifts for Youth**
Continuing his unrelenting service to the Baltimore community, **Ray Lewis** hosted a gift giveaway for 150 underprivileged youth at a local Walmart on Tuesday (12/7) to kick off the holiday season.
Through a partnership between the Ray Lewis Foundation and the Port Covington Walmart store (Baltimore, Md.), the Ravens linebacker invited students from Samuel Coleridge-Taylor Elementary, Fort Worthington Elementary, Abbottston Elementary, the Bluford Drew Jemison STEM Academy West and Lakewood Elementary to participate in his annual holiday gift giveaway.
The perennial Pro Bowler guided the children through an aisle of gifts – one side designated for girls, the other for boys – in the store's lawn and garden department. By helping each of them select one gift for his or her self, in addition to one for a family member, Lewis ensured that each of the 150 children would have a holiday season to remember.
Once the gifts were chosen, the 15-year veteran escorted each child to a wrapping area where Walmart associates and Ray Lewis Foundation representatives helped put the finishing touches on the selected gifts.
To top it all off, each child's family was provided with a turkey to complete the holiday experience.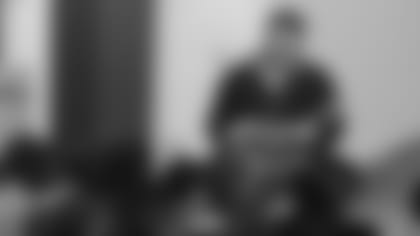 Morgan Cox Reads to Local Elementary Students**
New Town Elementary (Owings Mills, Md.) students were welcomed by a special guest reader at the school's annual book fair and reading night on Tuesday evening.
Rookie **Morgan Cox** read The Adventures of Sparrowboy to nearly 150 students – kindergarten through fifth grade – as they rotated through different stations of the event.
Seated in an arm chair at the front of the school's gymnasium, the Ravens longsnapper entertained the kids with his reading skills before they entertained him with their interview skills. After the story ended, Cox answered questions ranging from "When did you start playing football?" to "What's your favorite cereal?"
But the Tennessee-product (who picked up football in 5th grade and enjoys a hearty bowl of Cap'n Crunch, by the way) had to pause when asked, "What do you want for Christmas?"
"Well," he said. "I want the Ravens to make it to the playoffs."
Unsurprisingly, many of the students – and even some parents – admitted to having a similar holiday wish.
Josh Wilson Visits Temple Emanuel Synagogue Community
Ravens cornerback **Josh Wilson** visited children and parents at Temple Emanuel Synagogue (Reisterstown, Md.) on Tuesday night as the featured guest for the community's sports night.
Nearly 100 attendees listened as Wilson introduced himself and referenced his ties to the Maryland community. The Hyattsville native, and DeMatha High School alumnus, spoke about his experience playing football for the University of Maryland Terrapins, and expressed his gratitude for the opportunity to return home.
During the event's Q &A portion, Wilson fielded questions concerning his life on and off the football field. Wilson commented that it was his mother – and her strict rules – that led him to his success where it counted most: in the classroom. Needing to keep a 3.0 grade point average for permission to play football, Wilson went on to earn the James Tatum Award for being the Atlantic Coast Conference's top student-athlete in 2006.
When asked about his regular workday, Wilson admitted that some of his success could be attributed to his impatience. Citing a past internship with Under Armour, the cornerback realized that he couldn't stand to sit still, leading him to find every last excuse to run errands just to get away from his desk. He realized – and told his mom – that a career in football just had to work out, because an office job certainly wouldn't have.
Now, Wilson's impatience is only sparked when the defense comes off the field – and that certainly isn't a bad thing.
Grange Elementary Honored as NFL Play 60 Super School
Grange Elementary School was selected out of 150 entries in the Baltimore area to be honored as a NFL Play 60 Super School on Tuesday morning.
Shellie Pfohl, Executive Director of the President's Council on Fitness, Sports and Nutrition, spoke to the near 400 students about the importance of positive health and exercise, while the NFL presented the school with a $10,000 NFL Play 60 grant for health and wellness programming or equipment.
With the help of four Ravens cheerleaders, teachers at Grange Elementary hosted the Ultimate Physical Education Class to further encourage youth to participate in at least 60 minutes of physical activity each day. The NFL donated all equipment used in the class to the school's physical education department.
The NFL Play 60 Super School sweepstakes selected one school in each of the 32 NFL markets and two non-NFL markets.