A number of Ravens players were in the community Tuesday, supporting Union Memorial Hospital's Blood Drive and Under Armour's Freedom Initiative.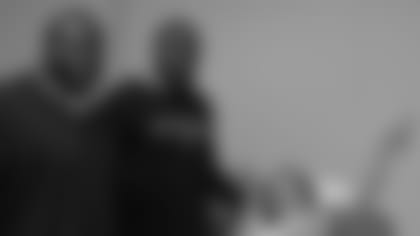 McKinney, Divens Visit Local Blood Drive**
As visitors donated blood at Baltimore's Union Memorial Hospital Tuesday (9/28), two Ravens players came to donate their time and moral support.
Defensive linemen Brandon McKinney and Lamar Divens attended the hospital's blood drive, where they greeted donors with smiles and handshakes, posed for pictures, and even sat down to answer questions and sign autographs for staff members and participants.
And although the two 300-plus-pound tackles were a little hesitant around needles, the hospital staff still successfully collected 35 units of blood from its 43 donors. To show their appreciation, the Baltimore Ravens and Union Memorial – a division of MedStar Health – raffled off both a LB Ray Lewis football and a Ravens fan pack to the event's participants.
Union Memorial's own Celia Cruz, along with John Rauch – a visitor whose mother is being treated at the hospital – were the two respective winners.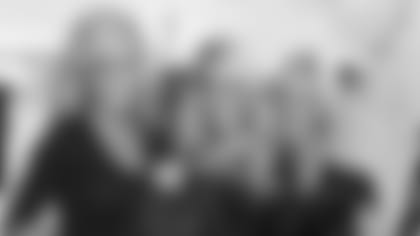 Ravens Team with Under Armour to Aid Injured Troops**
A number of Ravens players traveled to the Under Armour warehouse in Curtis Bay Tuesday (9/28) to fill and send backpacks to wounded soldiers overseas.
WR Anquan Boldin, LS Morgan Cox, K Billy Cundiff and LB/DE Paul Kruger joined Ravens cheerleaders and injured service members to support the men and women who daily risk their lives in defense of our freedom.
Beneath a replica military tent, players and volunteers loaded over 200 specially-designed Under Armour backpacks with a variety of necessary clothing items, including shirts, socks and underwear. All bags will be given to injured troops who are currently recovering in military hospitals overseas.
The event was part of a joint effort by Under Armour's Freedom Initiative and the Wounded Warrior Project, which aims to cater to the needs of wounded service members.
For more information on Under Armour's Freedom Initiative and how you can assist with the distribution of backpacks to soldiers overseas, please visit www.underarmour.com/freedom.