Team Purple Races for the Cure
Ravens staff, family, friends and fans gathered in Hunt Valley, Md. early Sunday (Oct. 3) morning to support the 18th Annual Susan G. Komen Race for the Cure.
Nearly 275 supporters represented Team Purple and raised over $20,000 for breast cancer research – almost twice as much as the previous year's total.
Representatives from the Ravens organization arrived bright and early to distribute the lavender Team Purple t-shirts as well as support the cause. Altogether, the annual 5K raised nearly $2.3 million for Susan G. Komen for the Cure.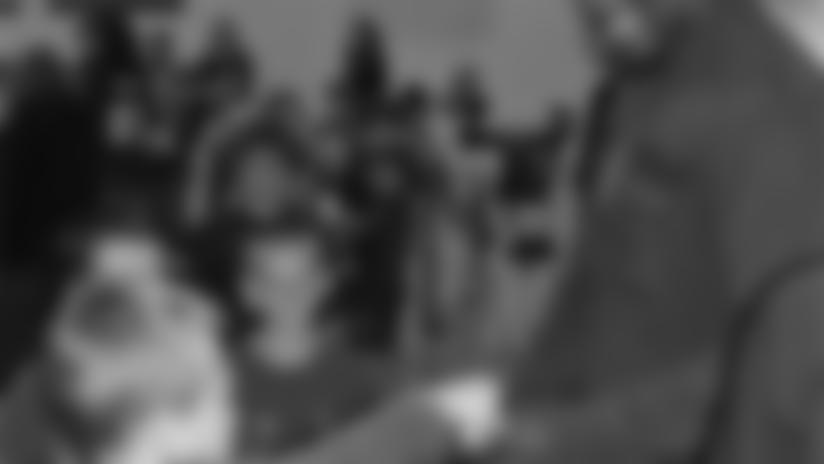 Jameel McClain Speaks to Students about Staying Active, Eating Right**
Students at Manchester Elementary in Manchester, Md. received a very special visit on Tuesday (Oct. 5) when linebacker Jameel McClain stopped by their school.
To kickoff the partnership between the Ravens' Play 60 Challenge and Carroll County Schools' Project ACES – two programs that encourage students to engage in a minimum of 60 minutes of physical activity each day – McClain and the Ravens hosted an assembly to stress the importance of daily exercise and positive nutrition.
Manchester's third, fourth and fifth graders gathered in the school's gymnasium to listen as McClain spoke about the many benefits of daily exercise. Aside from sharing some of his personal favorite activities – like boxing and football – McClain encouraged students to put down their video game controllers and to go play outside.
And although the students listened intently to each and every word, McClain still wanted to see if they were truly ready to get active. From the audience, the Ravens linebacker picked four lucky students to challenge one another in a two-on-two (boys vs. girls, of course) relay race across the gym.
Despite the girls' team posting a come-from-behind win, McClain presented each of the contestants with a Ravens goodie bag filled with small Ravens prizes, a Play 60-branded football and even a special Ravens jump rope.
After the assembly, every student was lucky enough to receive a high-five from their new favorite Raven as teachers guided them out of the gym and back to class. McClain, who admitted that his hand was a little sore from the high-energy students, stayed to take pictures with Manchester teachers and staff.
Matt Birk Kicks Off Ready, Set, Read!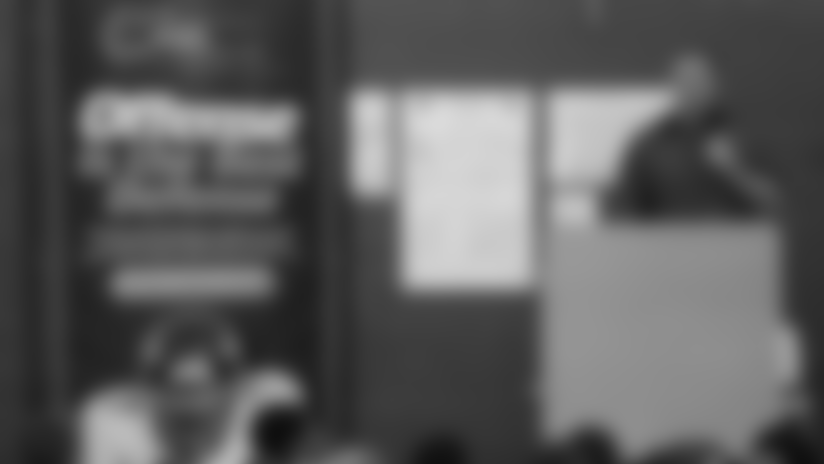 To help launch his Ready, Set, Read! campaign, Matt Birk visited Morrell Park Elementary in Baltimore, Md. on Tuesday (Oct. 5) to speak with students about the benefits of reading.
Birk greeted the 200-plus students who filed into the school's gymnasium by first commenting on all of the great things he saw at Morrell Park.
Well, except for one – the fact that Principal Sean Conley was a Steelers fan.
But after the students (and even Principal Conley) shared a laugh, Birk got right into speaking about the Ready, Set, Read! program, which will take place in 48 elementary schools this year and reach over 12,000 students and encourage students to read outside of school.
Citing his college career at renowned Harvard University, Birk admitted that football could only take him so far. And knowing that an education, which relies on reading, would far outlast any football career, Birk pursued a degree in Economics to set himself up for life after the gridiron.
To get students excited about Ready, Set, Read! Birk informed them about the many prizes included in the program – even a chance to tour M&T Bank Stadium next spring, which would be awarded to the top reader.  
To wrap things up, and to demonstrate how reading really can take you anywhere, Birk read the Morrell Park students Dr. Seuss' *Oh, the Places You'll Go! *Afterwards, students and staff had the opportunity to take pictures with the Harvard grad and Ravens center.
Ready, Set, Read! is part of Birk's HIKE Foundation, which aims to provide at-risk Baltimore-area children with the educational opportunities necessary to excel. For more information, visit www.HIKEFoundation.org.