As the Ravens get ready to play the Cleveland Browns after just four days of rest – a brutal chore for an NFL player's body – they've turned to a new source.
His name is Roger Erickson, and he's a big-bellied 59-year-old man who can do a split with ease.
Erickson, from St. Paul, Minn., helps players with stretching exercises. During this short week, he's a major part of one of the chief goals Ravens Head Coach John Harbaugh outlined for his team: recovery.
"In a week like this, he's crucial," center Matt Birk said. "With the quick turnaround, to get the body feeling good and recovered from the last game quicker, he will get us ready to play on Thursday again. I don't know how guys do without it."
Birk and Erickson go way back. Birk went to his neighborhood gym as a self-proclaimed "unathletic" 14-year-old Minnesota kid who was interested in lifting weights for football.
That began a lifestyle for Birk, and a relationship that has spanned from high school to college to 15 years in the pros. People ask Birk how he still does it. He points to Erickson.
"Probably more than anybody, he helped me get to the NFL and helped me stay in the NFL," said Birk, who has gone to nationally-recognized trainers and still says Erickson is the best.
"Stretching has been part of my life for 20 years. My wife will be like, 'Can't you come to bed?' I'll be on the floor stretching, reading a book or watching TV. I know what it does for me. I know how it makes me feel."
Birk introduced Erickson to the Ravens, but it was more organic than a sales pitch.
One day this past May, Harbaugh simply asked Birk how he was feeling. Birk told him that he had increased his work with Erickson and was feeling really good entering the year, despite being 36 years old and having taken years of beatings in the trenches.
Birk suggested to Harbaugh, a fellow fitness nut who just turned 50, that he should give Erickson a try. "Just give him an hour," Birk said.
So Harbaugh took Birk up on it and Erickson flew in for what was essentially a hands-on interview. Immediately afterwards, Harbaugh decided the entire team could benefit from his services.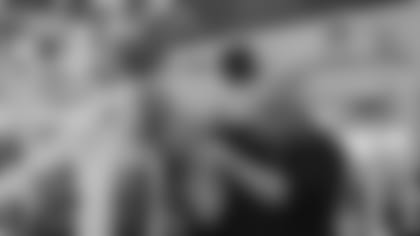 Erickson worked with the Ravens throughout training camp. During the season, he works the day before a game, on game day and the day after games. During this short week, Erickson's been in Owings Mills, Md., every day.
What Erickson preaches is a healthy lifestyle through stretching.
Instead of static stretches that typically are held for 20 or 30 seconds with the intention of warming up the body, Erickson teaches a dynamic flexibility routine. He does very long, slow stretches that rely on gravity to do the work.
The idea is to create a more flexible body at all times, enhance joint stability, increase muscle responsiveness and "wake up" the nervous system. It helps athletes feel better leading up to games, play better because they're more mobile and recover faster afterwards.
Erickson also sells stretching to players as a way to stay in the league longer, make more money, and still be able to pick up their children after retirement.
"My theory is real simple," Erickson said. "Nowadays everybody does dynamic stretching. They don't ever get flexible. They just get warmed up. Mine is kind of old school.
"There are so many benefits from it. Guys get really strong, but they can't use their strength because they're not flexible. You see so many big, strong guys, but you don't see big, strong, fast guys because they're not flexible."
Erickson has worked with Minnesota Twins catcher Joe Mauer, Arizona Cardinals wide receiver Michael Floyd and former Heisman Trophy winner Chris Weinke. The small gym owner hasn't helped an entire NFL team before. He's already made a lot of believers in the Ravens locker room, however.
Defensive tackle Haloti Ngata, who is off to an MVP-like start to the season, can look up while in his stance for the first time in his career. He previously could not see what was in front of him in his three-point stance because of a stiff neck.
"It's definitely huge. You've got to be able to look up and see what's going on," Ngata said. "I totally feel better just from him teaching me the little things."
Pro Bowl right guard Marshal Yanda can now get into his stance without pain.
"I've always been kind of labeled as a stiff guy," Yanda said. "I've been working on it and he's definitely helped my hips get more flexible and helped me move around a lot better. There's no doubt about it."
Fellow defensive tackle Ma'ake Kemoeatu is a starter despite sitting out all last season. Injuries threatened to end his career.  When he got twisted in a pile of bodies this past Sunday night, Kemoeatu feared the worst, yet popped back up and felt totally fine. He personally thanked Erickson after the game.
"If my legs weren't flexible, it might have been a major injury," Kemoeatu said. "Having my body be more flexible has made me feel younger, quicker, faster. I wish I met Roger five or six years ago. It might have saved me an Achilles injury."
Erickson has put in long hours this week, holding multiple open stretching sessions for players. He helped them get better blood flow to allow more oxygen to get to the muscles and help quicken the healing process.
It's impossible to know how much is luck versus the Erickson effect, but the Ravens are extremely healthy for this time of year.
They have just three players on this week's injury report while the Cleveland Browns have 10. Besides freakish bone breaks to safety Emmanuel Cook and defensive end Ryan McBean, the Ravens haven't suffered any lingering issues thus far.
The players laugh at and imitate Erickson's heavy Minnesota accent. But at least that shows they're listening. And they can't argue with his results.
After all, who wouldn't listen to a 270-pound man who can lift his leg over his head?
"In the fitness and training world there's always something new," Birk said. "The guy hasn't changed one bit from his philosophy because the truth never changes."