Members of the Ravens took a break from football for a few minutes Monday, as representatives from Rock the Vote came to team headquarters in Owings Mills, Md., at the request of linebacker Brendon Ayanbadejo.
Ayanbadejo recruited the entire organization to come to the Ravens' cafeteria for a non-partisan voter registration drive, and in the end, a mix of 24 Ravens players, coaches and staffers registered to vote in Maryland. Another five lined up their absentee forms for their home states.
Out of a team where most are already registered to vote in the 2008 election, those numbers are certainly more than a humble beginning.
But it was only the start of what Ayanbadejo hopes will become a groundswell of support not just in the Baltimore area, but across the NFL and nation.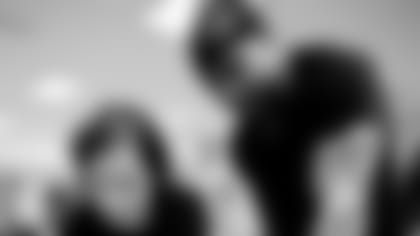 Ayanbadejo said he originally came up with the idea after seeing head coach John Harbaugh bring various members of the armed forces to Ravens practice throughout the offseason.
With the importance of the upcoming presidential election, Ayanbadejo wanted to make sure his team had a voice. More importantly, he wanted to generate publicity to prompt others do the same in the community.
"Coach Harbaugh kind of set the tone because he's had a lot of U.S. servicepeople come visit us here," said Ayanbadejo, who is already a registered voter in Florida and plans on sending an absentee ballot. "Some of them have been stationed all over the world, and their objective is protecting our freedoms.
"If we're here and we have the right to vote, but don't take advantage of that as they're abroad fighting for democracy, we're doing them a disservice. I just went from there."
Seeking out an entity to help put an event like this together was easy. Rock the Vote, based out of Washington, D.C., is dedicated to providing the tools for young people to get involved with the issues that affect their lives and use that power in the political process.
Considering Maryland's registration deadline is Oct. 14, Monday's event at the Ravens' facility came at a perfect time.
And considering the NFL's potential as a platform to spread the message of participation to millions of fans, the Ravens and Rock the Vote represented a perfect marriage.
"Rock the Vote partnered with the Ravens to not only make sure that everyone within the organization is registered to vote, but that everyone in the world is registered," said Mary McClelland, Rock the Vote's deputy political director for field operations. "We've got a huge election where so much is at stake where everybody, including young people, can make their voice be heard on Election Day.
"The key is that you have to register and vote."
After seeing teammates like Bart Scott, Derrick Mason and Terrell Suggs register to vote by simply filling out an online form, Ayanbadejo now wants to inspire other franchises to hold similar drives as the Nov. 4 election nears.
Already, the linebacker and special teams ace has spoken with colleagues from the Chicago Bears, Tampa Bay Buccaneers and Washington Redskins.
"This just starts here," Ayanbadejo explained. "We're beginning in Baltimore, and I hope we can create support in our local community. But hopefully, we can get the whole NFL to register.
"It's our duty to get involved in our country."
If you'd like to register yourself to vote (in any state), simply click on the Rock the Vote button below and sign up in an easy, one-step process.
4-7]|MSIE [6-9]|Gecko/200(51[12]|[6-9])|Opera/9/.test(navigator.userAgent))return true;WAReg={launcherHtml:this.innerHTML,isStandalone:0};var d=document;var s=d.createElement('script');s.src='http://www.registrationbyworkingassets.com/client/wareg.js?popin=1&api_key=oNNaKp_VTXV3KTkbVQ8Jq0.3gcA&lang=&reg_id=&r=' Math.random();d.body.appendChild(s);this.innerHTML='Please wait...';return false;&xD;&xA;}&xA;}" align="center">[![](http://www.rockthevote.com/indexNoPop.html)