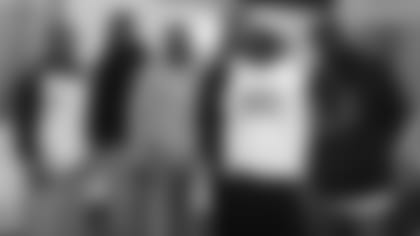 Reed Provides Holiday Meal with All the Fixings**
In addition to hosting his annual Thanksgiving drive, Reed regularly hosts fitness days and mentoring sessions for students at the school.
McGahee "Rushes" to the Table
Ravens tailback **Willis McGahee** was at Homewood Suites in Columbia, Md. on Monday evening to distribute Thanksgiving baskets and necessary household items to 200 of his Howard County neighbors.  The 8-year veteran partnered with Councilman Calvin Ball and the Howard County Association of Realtors to identify and reach out to the area's needy families.
TE **Dennis Pitta** and WR **Marcus Smith**, along with members of the Reservoir High School football team – two of which McGahee mentors – were present to greet families and children, as well as distribute the holiday care packages.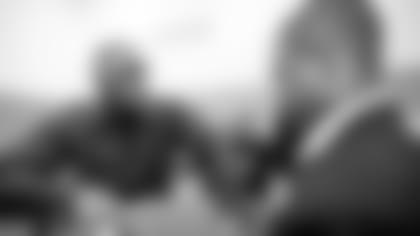 Lewis Continues Thanksgiving Tradition**
For the 11th consecutive year, Ravens linebacker and perennial Pro Bowler** Ray Lewis** hosted his annual Thanksgiving distribution for Baltimore families in need. With the help of countless volunteers, nearly 800 families received food, toiletries and other personal care items at Baltimore's Bluford Drew Jemison Academy on Tuesday (11/23) afternoon.
Macy's, Wal-Mart and Frito-Lay assisted in providing the food and items to be given out, while students from the academy were on hand to help with the distribution. But Lewis took responsibility for placing the pivotal piece – the turkey – into each family's basket, while offering his holiday wishes to the recipients.
Rice Serves Early Thanksgiving Dinner
Running back **Ray Rice** visited Baltimore's Helping Up Mission on Tuesday to serve an early Thanksgiving dinner to the men who visit and live at the shelter.  Accompanied by teammates FS Dawan Landry, WR** David Reed**, CB Fabian Washington, CB Cary Williams, as well as Mayor Stephanie Rawlings-Blake, more than 400 men were provided with a hot meal to celebrate the holiday.
Now in its 5th year, the annual Thanksgiving dinner at Helping Up Mission was funded by former Ravens linebacker Bart Scott, who hosted the event each of its first three years. On Tuesday, Scott – who is now a member of the New York Jets – held a conference call after the dinner to offer his own words of encouragement to the members of the shelter.
Ben Grubbs held his Turkey Drive for the second consecutive year at the Park Heights Boys and Girls Club in Baltimore on Tuesday. After providing 100 Thanksgiving meals to single-parent families in 2009, the 4th- year Ravens guard increased the total to 150 for 2010.
Since coming into the league in 2007, Grubbs has worked to build an extensive partnership with the Park Heights Boys and Girls Club.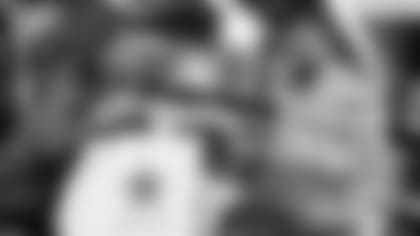 McClain Hosts First Thanksgiving Distribution**
Continuing his strong relationship with the Salvation Army and with the help of The Family Tree, linebacker** Jameel McClain** hosted his first-ever Thanksgiving distribution on Tuesday evening.
The inaugural event featured a reception where 53 families (in recognition of McClain's NFL jersey number) received Thanksgiving dinners from McClain and his teammates. LB **Dannell Ellerbe**, WR Justin Harper, CB Lardarius Webb and former LB Edgar Jones helped distribute everything from full-sized turkeys to floral centerpieces to assure that the families would have a holiday to remember.
After the distribution, McClain and his teammates gathered all of the parents and children to pose for a large Thanksgiving "family" photo.