When **Domonique Foxworth** drove up to the Ravens' training facility from Washington D.C. early Friday morning, it was the first time he's ever seen the palatial team headquarters.
But it was an eerily familiar trip.
Foxworth passed the University of Maryland, where he was an All-ACC performer. He saw the road the led to Western Tech High School, where he was a gridiron superstar.
And just before he turned on 1 Winning Drive to sign his new four-year contract, Foxworth gave a little wave to yet another alma mater, Deer Park Elementary.
Speaking in front of his family in his first press conference as a Raven, it was obvious that Foxworth felt like he was home.
"When the Ravens got here, automatically we gravitated to them just like most of the city has, because they are a hard-nosed, blue-collar team - just like this city is," he said. "To finally be able to come back and be a part of it is great.
"It's just a good feeling this morning to go down my Maryland football history and be able to make the last stop with the Ravens."
Clad in a light purple tie and grey suit, Foxworth admitted that playing for his local team was always a dream of his, but one that had to wait until the free agent market opened at 12:01 a.m. Friday.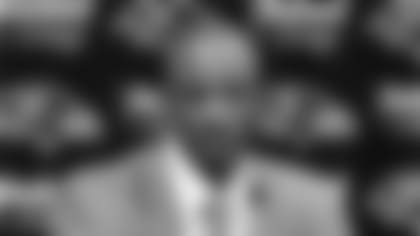 "Obviously, I couldn't sleep last night because you're going [into free agency]," said the cornerback. "Since I was a Pop Warner Randallstown Panther, I've worked to get to a point where I can sign a contract like this one. So when you're up into the day before, it's like Christmas Eve times 12.
"I'm up all night waiting for my agents to call, find out what's going to happen. Then they call, they go down a list of teams that have been calling them and showing interest and gauge who's more interested and who's not. That's what happened this morning. So once you hear Ravens, I'm [saying], 'Stop. Stop right there. Baltimore is an option?' They respond and say it was, so they get bumped to the front of the list. Anything that I can do to make it happen, you sacrifice some of the other things that are important to you because being close to home is obviously of premium importance in my thinking."
Ravens general manager **Ozzie Newsome** laughed when he heard that, noting how he wished Foxworth would have told him of the possibility of a hometown discount before negotiations began.
"You can look at it as Domonique has replaced Chris," Newsome said. "[The staff] has talked about 'have as many corners as you can.' I think they all find their way on the field at some point."
After a stellar four-year career in College Park, Foxworth was a third-round draft pick (97th overall) of the Denver Broncos in 2005. A part-time starter during his stint in Denver, he was traded to the Atlanta Falcons last season, where he started 10 of 14 games and totaled 39 tackles and one interception.
Known for his speed and range, the 5-foot-11, 180-pound Foxworth may not have ample size, but he makes up for it with toughness.
"He's a top-flight corner in the Ravens' mold, a corner that can cover someone all over the field, but not just that," said head coach **John Harbaugh**. "He's physical, he's hard-nosed, he's smart, he plays extremely hard, and he's willing to tackle.
"Those are things that great players do on defense no matter what position they play."
Foxworth is eager to showcase those skills in front of the friends and family from the past.
"I'd always hoped that people that I'd known in Maryland might keep track of me and stay on top of it, so now it just makes it easier for them to see how I'm doing," he said.
His parents will happily save on the airfare.
"You always want what's best for your son," said Foxworth's father, Lorinzo Foxworth. "But my knees definitely buckled a little bit when I heard. We all take pride in him."
Notable
Foxworth will wear No. 24. … Newsome declined to discuss any other issues regarding free agency. … The Ravens released defensive tackle Marques Douglas, but Newsome said the team would not rule out the possibility of bringing him back. … Baltimore assigned a second-round tender on punter Sam Koch![](/team/roster/sam-koch/5db3abab-9670-4b0b-93b7-286dcac1e69c/ "Sam Koch"), and low tenders on wideout **Demetrius Williams** (fourth round), tight end **Quinn Sypniewski** (fifth round) and safety **Dawan Landry** (fifth round). … Harbaugh noted Foxworth's high character as another positive in signing the free agent. In addition to supporting children's literacy programs and working with Boys and Girls Clubs, Foxworth serves on the NFL's Player Conduct Advisory Committee. In the 2008 offseason, he was named to the executive board of the NFL Players Association, becoming one of the youngest members ever to hold that type of position. "When we started talking about Domonique and started researching him, we found out he's a high-character person," Harbaugh said. "He's a man of integrity. That's where we start, and then we look at all the other stuff. That's our foundation, and that's a big part of what he brings to the table."