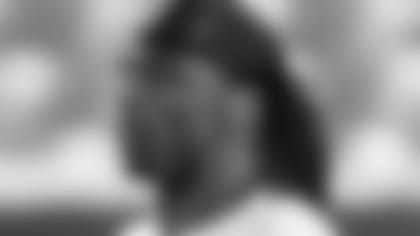 The Ravens made the first move in shoring up their receiving corps by signing veteran Donte Stallworth to a one-year contract on Tuesday. Terms of the deal were not disclosed by the team.
Stallworth, 29, brings a solid track record to Baltimore, which is in need of talented targets to surround developing quarterback Joe Flacco.
But he also brings some rust.
Stallworth, 6-foot, 200 pounds, was out of football for the entire 2009 season after a year-long suspension for killing a pedestrian in Miami while driving with a blood-alcohol limit reported to be .126, well above Florida's legal limit of .08. Stallworth was reinstated Sunday by NFL commissioner Roger Goodell on Feb. 7 and released by the Cleveland Browns the following day.
Now, Stallworth has an opportunity to turn his career around with a second chance.
"There was a time I felt the mistake I made was the end of the world for me. I've had trouble putting it into words," said Stallworth, who worked out for the Ravens on Tuesday. "So, when teams started inviting me for workouts and the Ravens called, I was excited. It means a lot that they would be willing to take a chance with me. I have a lot of people I am thankful for, and that now includes the Ravens. I can't let any of these people down, including my family, Commissioner (Roger) Goodell and the Ravens.
"I will never get that morning back," he continued. "It weighs on me every day and will for the rest of my life. What I can do is move forward, try to be a better person, try to convince others not to do what I did and warn others about the dangers of drinking and driving. I have to show otherwise that what happened doesn't reflect who I am. I have to prove that, and, hopefully, I'm on my way to doing that."
The Ravens are confident that Stallworth is not going to be a repeat offender. That's what Ravens owner Steve Bisciotti cited as his main concern when asked about adding players with off-field problems earlier this month.
"We've given a lot of thought to this, and we've done extensive research into Donte' beyond football," said Ravens general manager Ozzie Newsome. "He made a huge mistake. There's no doubt about that. He has paid a significant price for that and, as he has said, he carries a heavy weight. As Steve has said, we believe in second chances, and Donte' does deserve that.
"But, we've signed him because we want to get better, and we think he has a chance to help us. We worked him out, and it's obvious he is working hard to be effective. We thought it was important to sign him now, because other teams were pursuing him, and we want him in our offseason program, which starts next month."
Stallworth, originally selected in the first round by the New Orleans Saints in 2002, has bounced around to multiple teams throughout his career. From New Orleans, he joined the Philadelphia Eagles and New England Patriots before landing with the Browns in 2008.
Through seven seasons, Stallworth averaged 625.2 yards and 42.3 catches a year. His best came in 2005, when the University of Tennessee product started 13 games for the Saints, totaling 70 grabs for 945 yards and seven touchdowns.
"Our goal is to become a better team, and we work on that every day," said head coach John Harbaugh, who was an Eagles special teams coordinator in 2006 when Stallworth was in Philadelphia. "Adding Donte' gives us the opportunity to improve. I observed him and interacted with him for a year when we were both in Philadelphia. He's the kind of person and player who can help us. It's clear that he is determined to play, that he has been working hard and that he wants to have a positive impact off the field, too. We're looking forward to working with him."
It wasn't looking good for Stallworth, however, once he struck 59-year-old Mario Reyes last summer. He was given a 30-day jail sentence, of which he served 24 days, two-year house arrest, eight years of probation, 1,000 hours of community service and reached an undisclosed financial settlement with Reyes' family.
The Browns, who signed the receiver to a seven-year, $35 million contract in 2008, decided to let Stallworth walk the day he was reinstated (Feb. 8), after which he reportedly worked out for the Detroit Lions.
"I know my apology will never be strong enough for some, but I've made changes and I'm trying to be a positive influence," said Stallworth. "It's an honor and privilege to play in the NFL, and I'm so thankful for this opportunity. I will make the best of it. And, some people may listen to me because I will be playing. I hope I can do some good in delivering a message that could help someone or prevent someone from doing what I did."
Stallworth said he had been working out for six months to stay in shape and seemed fit when meeting his coaches in the halls of Ravens headquarters.
According to Ravens receivers coach Jim Hostler (pictured with Stallworth above), who coached Stallworth as a rookie when he scored a career-high eight touchdowns, the former 13th-overall draft pick has the potential to be a key contributor next year.
"Donte' has talent and ability. That's why he was a high first-round choice," Hostler explained. "He's a player with the type of potential to make defenses pay attention to him. He was very productive as a rookie when he played 13 games. I know what kind of person he is, and I respect him. We all know the tragic mistake he made, but I believe he has grown from that, and we're looking forward to seeing him grow more. His second chance can be good for the Ravens. We plan to get the best out of him, and I'm confident he will give us his best."
Baltimore seems like a good fit for Stallworth, should he earn a roster spot. And, there are certainly openings.
The Ravens will likely add another few receiving prospects, whether it's in the draft or via free agency, but for now, a remorseful and talented Stallworth is a positive move.