The Woodmoor Police Athletic League (PAL) Center in Gwynn Oak, Md., was in need of a makeover. Ravens wideout Yamon Figurs, linebacker Jameel McClain, tackle Joe Reitz and cornerbacak Frank Walker traded their football pads for paintbrushes to come to the rescue.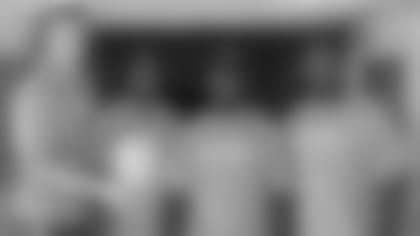 The group participated in the United Way Share Yourself Makeover Challenge III where they each were paired with a corporate team to refurbish a room in the PAL center.
Figurs and a squad from UPS were in charge of the game room, where Figurs painted the walls a bright shade of Ravens purple.
Next door in the gymnasium, McClain and the Domino Sugar team helped to create and stock new shelves with equipment. The rookie linebacker boasted that the wall he painted in the gym rivaled Michelangelo's work.
Reitz, wanted to create a welcoming atmosphere for the kids when they entered the center. The 6-foot-7 Reitz was not only great at painting the high corners of the lobby, he also proved himself as the group's motivator, encouraging his fellow Enterprise Rent-A-Car teammates throughout the day.
The theme of the elementary room was hometown heroes. Walker joined W.R. Grace in the room hanging inspirational pictures, and information about successful Baltimore individuals, including Director of Pediatric neurosurgery at Johns Hopkins Hospital, Ben Carson.
The youth came in at the end of the day to judge each room and pick their favorite. Walker's motivational room was chosen as the winner of the makeover challenge.
Ravens Celebrate Worldwide Day of Play
The after school program youth from Wolfe Street Academy had a very active Tuesday afternoon. Offensive linemen Chris Chester and David Hale, safety Haruki Nakamura, defensive tackle Salomon Solano and tight end Daniel Wilcox hosted a fitness event to celebrate Nickelodeon's Worldwide Day of Play, encouraging youth to be physically active.
The Ravens players were joined by cheerleaders Dinah P. and Andrea B., as well as members of the Lady Ravens Association.
In addition to promoting fitness and nutrition, the event honored Hispanic Heritage Month. Solano, the Ravens' international practice squad member from Mexico, addressed the 50 youth from Wolfe Street Academy, which has a predominantly Hispanic population. Solano spoke about the importance of fitness and demonstrated how he wears his football equipment on much smaller volunteers.
Chester, Hale, Nakamura, Solano and Wilcox coached the youth through football drills. Nakamura challenged some of the kids to a race through the obstacle course, but when he was outrun by a fourth grader he decided to stick to tossing them the ball.
The Lady Ravens and cheerleaders distributed healthy snack packs, provided by the Ravens and the Mid-Atlantic Dairy Association, to the youth at the end of the day.
Worldwide Day of Play taught the Wolfe Street Academy kids about football, fitness and nutrition in a day that they did not want to end.
For more information on Worldwide Day of Play events and NFL Youth Programs, visit **www.NFLRUSH.com**.