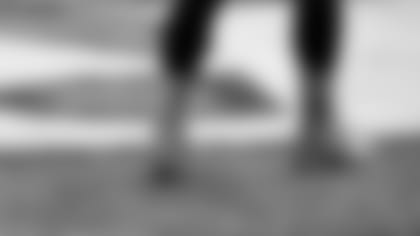 This October, the Baltimore Ravens will support Breast Cancer Awareness Month through a variety of initiatives, and the efforts will be highlighted when the Ravens take on the Falcons (Oct. 19, 1 p.m.) at M&T Bank Stadium. These initiatives include:
The Ravens have partnered with the American Cancer Society (ACS) through support of the nonprofit's Making Strides Against Breast Cancer event on Sunday, Oct. 12. Ravens fans are encouraged to join Team Purple and will receive a commemorative t-shirt as a thank you gift.
Monday, Oct. 13
Breast Cancer Awareness Month efforts will continue on Monday, Oct. 13 when Ravens players visit with breast cancer patients who are currently undergoing treatment at The Hoffberger Breast Center at Mercy Medical Center. *(Details to follow on Thursday this week.)
Sunday, Oct. 19 vs. Falcons
Ravens staff, family members and volunteers will distribute over 50,000 pink ribbons to fans as they enter M&T Bank stadium gates on Sunday before the Ravens' designated Breast Cancer Awareness game. In collaboration with ACS, the initiative, called *A Crucial Catch: Annual Screening Saves Lives*, reminds women 40 and older about the importance of having an annual mammogram.
Prior to the game's kickoff, approximately 20 women – a combination of breast cancer survivors and those currently undergoing treatment – will be honored during an on-field ceremonial tribute.
The Ravens will also incorporate many pink elements into the Oct. 19 game. Ravens players and coaches will wear pink items throughout the game, including cleats, gloves, hats, wristbands, Gatorade towels and more. Ravens cheerleaders will sport pink pom-poms, team mascot Poe will wear a pink New Era cap, and members of Baltimore's Marching Ravens will wear pink plumes. In addition, M&T Bank Stadium will feature on-field and in-stadium branding, and the Ravens Gameday magazine will feature a pink hue.
Game-worn pink merchandise, along with special game balls and pink coins, will be auctioned off at www.nflauction.nfl.com, with proceeds benefiting the ACS's Community Health Advocates implementing Nationwide Grants for Empowerment and Equity (CHANGE) program. To date, the NFL's program has raised approximately $7 million for breast cancer awareness, prevention and research efforts as a result of the A Crucial Catch campaign, with the majority of the funding coming from the sale of pink NFL Auction items.
Saturday, Oct. 25
!The NFL's A Crucial Catch campaign has provided another year of funding to support increased access to breast cancer education and screening resources in underserved communities through the ACS. The ACS has awarded a $50,000 Community Health Advocates implementing National Grants for Empowerment CHANGE grant to the Family Health Centers of Baltimore in Cherry Hill, continuing efforts to increase breast cancer screenings in the community. As part of the grant, the Ravens will participate in A Crucial Catch Day on Saturday, Oct. 25, a nationwide event held in cities across the country to help women receive breast cancer education and screenings. Pre-registered women will learn ways to reduce the risk of breast cancer and the importance of early detection at the Family Health Centers of Baltimore in Cherry Hill. Go to NFL.com/Pink to learn more.
![](http://shop.baltimoreravens.com/NFLBaltimoreRavensbreastcancer_awareness/source/bm-Ravens-ComAd-BCA-320x250-10.3.14)