Jumping into the Chesapeake Bay in the middle of January might be considered strange. But what about doing it over 100 times in a day?
That's exactly what Ravens tackle **Adam Terry** did from Friday to Saturday this weekend, as he participated in the 13th Annual MSP Polar Bear Plunge, held at Sandy Point State Park in Annapolis.
"It's pretty much pure insanity," said Terry, who was a super-plunger, a right he earned by raising over $10,000 for the Maryland Special Olympics. "I'm wiped."
Terry was among the more than 12,000 made the decision to "grin and bear it" on behalf of the Maryland Special Olympics, while another 20,000 people were there as spectators. More than $2 million was raised this year.
Along with about 100 others, Terry spent 24 hours jumping in and out of the Chesapeake Bay, all to help raise money for the Special Olympics athletes. The norm had typically been 24 times in a day (once an hour) but Terry decided he wanted to "up the ante."
"It's a great cause for great athletes," Terry commented, whose family has a history of volunteering for special education students. "It's an athletes/athletes thing, because they persevere through so many things."
Terry wasn't the only Raven on hand. Quarterback Joe Flacco![](/team/roster/joe-flacco/3e20766f-6520-4ca1-9901-44389aaea8b8/ "Joe Flacco"), center **Jason Brown** and tight end **Quinn Sypniewski** also participated along side Maryland governor Martin O'Malley.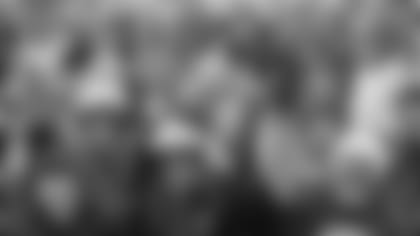 Each of the players held a similar belief, that their participation went deeper than just helping those in need. It came down to the respect among athletes. Terry related how when professional football players goout on to the field, they might get a bump or bruise and sit out, but may think twice after meeting with some of these special athletes.
"We're athletes, and these are athletes in their prime as well," Jason Brown said. "We're all doing something that we love, and this is something we can all take part in."
Flacco received one the strongest ovations before speaking to the excited crowd. When Flacco was drafted by the Ravens last April, he likely didn't envision swimming in ice-cold water as part of his job description.
"No, I didn't picture that at all," he said with a smile. "But it's a great cause to come out here, and it's great to see all the people doing it."
"It's awesome to see so many people out here supporting us," he added. "That's what it's all about is going out and having fun."
There was a very strong Ravens presence on hand at the park, and it wasn't just with the players. "Sports Steve" LaPlanche was another super-plunger. Well-known fans Captain Defense, Fan Man and Maniac were there in an effort to support the Special Olympics visibly.
The Ravens Playmakers, known for going around Baltimore each week prior to a game, also organized a plunge.
"I hope this becomes a tradition [for the Playmakers]," said team member Tiffany R.
But perhaps one of the biggest indicators of the Ravens influence this season was the sea of purple throughout the crowd.
"It's a great [event], so we wanted to do it full-on," said Dale "Maniac" Davis, who like the rest of the super fans was in his full gameday regalia. All of the Hall-of-Fame fans did the plunge.
The huge level of fan support was not surprising to those invested in the city and the event.
"It's a testament to the Baltimore Ravens," said Tom Schniedwind, Executive VP of Sports Marketing for the Maryland Special Olympics. "These [players] care."
The partnership between the Ravens and the Maryland Special Olympics was appreciated on the other end, as well.
"They're great supporters of the Ravens," Terry commended the organization. "And I'm a supporter of the Special Olympics and the athletes, so it feels good to get everything done and in the end it's for a great cause."