Ravens Team Photographer Shawn Hubbard has won first place in the "action" category of the Pro Football Hall of Fame's photo contest.
He had placed in the contest four previous times in the "feature" category (one second place, two third place and one honorable mention), but never placed in the "action" category.
Here's what Hubbard had to say about the shot:
*Q: First of all, congrats! How's it feel to get the top honor for the first time? *
A: Thanks! As a photographer working amongst some of the greatest image makers in the world covering the NFL, I think it's always nice to be recognized for the images we work so hard to make regardless of whether it's first place or an honorable mention.
Q: What's more of an honor for you, getting an award in "feature" or "action" photography?
A: I don't know if either one is more honorable, but since I've placed several times in the feature category, it was nice to have an action photo worthy of winning this year. I realize that I have great access being a team photographer, and that sometimes allows me to make feature images that other photographers don't get the opportunity to make. I suppose winning in the action category where we're all on a more level playing field (pun not intended) is pretty cool.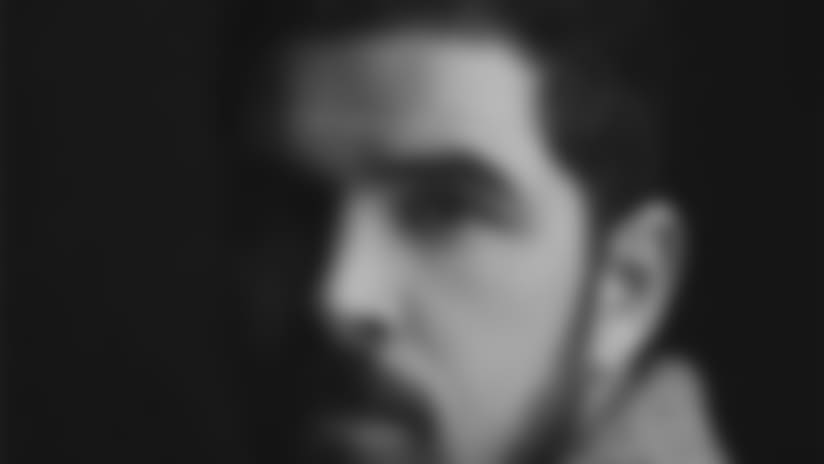 Q: Tell me about the moment when you snapped the Julio Jones photo.
A: I was shooting the game for the NFL and was assigned to be in a specific end zone spot for the entire game. I was also shooting with a lens that I don't normally use. Typically, I use a 400mm prime lens for on-field action, but I had been loaned a 200-400mm to use. I know what you're thinking, "Who cares!?" However, if I would have been shooting with my normal lens, I probably would have been too tight to capture the moment without cropping off vital information. So, I was in the right place, with the right lens, and then I just tried to follow the action just like I do on any other play and luckily the play happened in a great spot for me to capture it.
Q: Do you recall looking at your camera and thinking it was a good one?
A: I was able to capture the entire sequence of the play including him getting both feet in bounds, so at the time I didn't know which image I would ultimately choose, but I was pretty sure I had something special. Originally, I was concerned about not being able to see his face because I typically don't like images where you can't see the face or eyes of the main subject. However, this image was so dynamic I don't think it detracts too much. Also, the fact that you can see the face of the defender, Eric Rowe, adds visual interest.
Q: What's the key to getting a shot like that?
A: Being lucky really helps. What I mean by that is, the play happened just in the right spot for me to make a great image. Much further away and I may have had to crop in too much [thus] affecting the quality. Too close and I may have missed being able to see his feet off the ground which adds a lot of context and impact. I was assigned a shooting position, so I couldn't control where I was in relation to the action. I had to wait for the action to come to me. After that, just approaching each play the same way as each play before it is really key. Keeping your composure and trying to remain relaxed and focus (mentally) on what is happening. Having a fast motor drive definitely helps too!
Q: How many years have you shot the Super Bowl? And were you kind of hoping the Falcons would win after you snapped that awesome shot of Julio? That could have been the play of the game had the Patriots not come back.
A: This was my fourth Super Bowl. One with the Ravens and three as a part of the NFL photo team. As a Ravens fan, I was hoping the Falcons where going to win a long time before I snapped this photo, but, yes, even more so after I made the image. One of the pitfalls of sports photography is that sometimes the outcome of the game can affect the significance of a photo. When the Falcons lost, I was pretty bummed because I knew the photo was going to lose a lot of impact. However, it was nice that it was still recognized regardless of the outcome of the game.
Q: In your opinion, is this the best action photo you've ever taken? If not, which one was?
A: Photography is so subjective and it's always a challenge for me to assess my own work. I don't think I could definitively say that any photo I've taken is "the best" in any particular category, but this one is up there for sure.