Ravens players, staff and friends were busy this past week as they renovated a local park, hosted A Purple Evening and encouraged local students to stay active.
Ravens Staff and Friends Assist in Solo Gibbs Park Clean-Up
On Saturday (10/9), members and supporters of the Ravens organization volunteered to transform Solo Gibbs Park in Baltimore's historic Sharp-Leadenhall community.
Teaming with CSX Corporation, City Year, the Alliance for Community Trees, Tree Baltimore and the Baltimore Orioles, more than 100 volunteers worked to plant and mulch trees, build new benches and tables, and renovate the park's existing playgrounds and baseball field.
Some volunteers – who exhibited enough artistic prowess – assisted in painting a large mural, which featured the likes of historical figure Frederick Douglass, along with the Baltimore Ravens logo.
Established in the early 1700s, the community surrounding Solo Gibbs Park was home to some of the first African-American churches and schools in Baltimore City. Today, the area continues to give back to the community by maintaining affordable housing for its residents.
Saturday marked the third time in two years that CSX Corporation has organized a service day in the Baltimore area.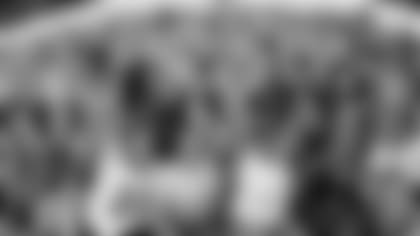 Ravens Host Women's Event at M&T Bank Stadium**
The Baltimore Ravens hosted their annual women's event, A Purple Evening, at M&T Bank Stadium on Monday (10/11) night for over 5,000 female fans.
Nearly 30 Ravens players, including FB Le'Ron McClain, RB Ray Rice and CB Fabian Washington were in attendance for the sold-out event to meet with supporters, offer autograph signings and host fan forums, which offered fans the opportunity to question their favorite gridiron stars.
And when female football enthusiasts weren't chatting it up with the Ravens – or enjoying the endless vendors, food, cocktails and gifts throughout the stadium – they could participate in a number of on-field skill clinics to test their catching, passing and running abilities on the Ravens' home turf.
Now in its third year, A Purple Evening continues to prove that the Ravens are privileged to have the most passionate female fans in football.
Ed Reed Holds Fitness Day for Students at Booker T. Washington Middle School
Ed Reed hosted a fitness day for students at Booker T. Washington Middle School on Tuesday (10/12) morning to teach participants about the importance of maintaining a healthy and active lifestyle.
Reed, along with teammates LS Morgan Cox and WR Justin Harper, organized a football clinic consisting of five separate skills stations to exhibit a variety of ways to stay fit.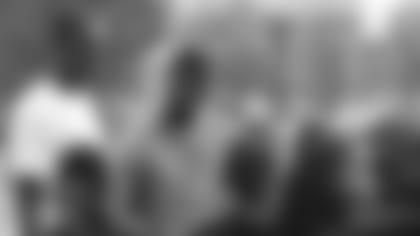 The stations ranged from the demonstration of footwork and callisthenic exercises, to proper tackling and receiving techniques – all of which the 250-plus sixth, seventh and eighth graders eagerly completed.
And although Reed focused much of his demonstration and lecturing on what it takes to be physically fit, he also emphasized the significance of staying in school, and the need to be respectful – to teachers, classmates, and most importantly, to themselves.
Adopted by Ed Reed, Booker T. Washington is host to the star safety's L.O.R.D.S program (Leadership, Order, Respect, Discipline, Success), which provides incentives for students who reach certain goals based on behavior, attendance and homework completion. Aside from visiting the school regularly, Reed annually donates Thanksgiving dinner baskets to the students' families.
Brendon Ayanbadejo Kicks Off the Play 60 Challenge
To kick off the Ravens' Play 60 Challenge, *as part of the NFL *Play 60 campaign, LB Brendon Ayanbadejo hosted an assembly Tuesday (10/12) for students at Baltimore's Afya Charter School.
Through the Play 60 Challenge, the Ravens have encouraged local students to engage in at least 60 minutes of physical activity each day for a period of six weeks. During his visit, Ayanbadejo hoped to not only inspire students to remain active for the next month and a half, but also the rest of their lives.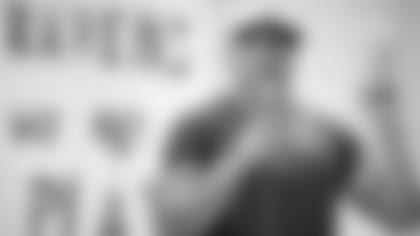 The Pro-Bowl special teams player spoke about the significance of a healthy diet – sharing his personal eating habits to the 150 students who collected in the school's cafeteria. In addition to citing some of his favorite foods – such as eggs and fruit – Ayanbadejo encouraged the kids to use less-healthy snacks as a reward, rather than a staple part of their diets.
But just sharing his daily eating regimen wasn't going to be enough. The 225-pound linebacker took it upon himself to demonstrate a few ways in which students could remain active at home without using much equipment. By completing a few push-ups and exercising his agility with a footwork ladder and a jump rope, Ayanbadejo proved that it's easy for anyone to stay fit. It was then the students' turn, as the Ravens linebacker challenged two lucky teams from the audience to compete in a relay race of footwork skills, jump roping and a set of push-ups.
To close the assembly, the reigning defensive champion of the Ravens Strongman Competition, stood outside the school's cafeteria to offer a high-five to each member of the audience.
The Play 60 Challenge will include over 15,000 elementary and middle school students throughout the Baltimore region.  By reaching specified benchmarks, participating students will be awarded prizes donated by the Baltimore Ravens. One lucky student from each school will be invited to the Ravens vs. Buccaneers game (11/28) and take part in a pre-game ceremony. Additionally, the top three performers from each of the participating schools will attend a prize luncheon in the spring of 2011.