This month nearly 85,000 children from pre-k through 12thgrade will report to school in Baltimore City. These students are excited for a new school year which brings opportunities, hopes and dreams for their future.  It is an opportunity to start fresh, however the majority of these students encounter daily hardships and will begin the school year without the necessary tools to succeed.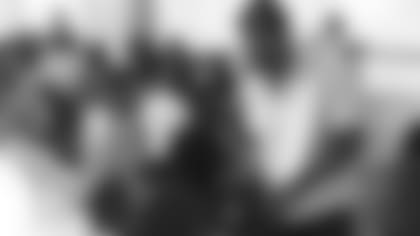 On Wednesday morning, the Baltimore Ravens All Community Team (ACT), sponsored by M&T Bank, looked to alleviate those hardships for students and their families at Westport Academy in Baltimore City. Joined by former Ravens defensive end Michael McCrary, members of the organizations handed out backpacks, notebooks, pencils, glue sticks, crayons and other school items in hopes to enhance school readiness.
"This in an impoverished neighborhood and the students are always in need of supplies," said Melody Locke, principal at Westport Academy. "When I first joined the school, I asked the secretary what is it that I need to understand about this community. She explained how they feel overlooked for everything. So, to have the Ravens and M&T Bank – two iconic organizations in Baltimore – giving out school supplies, handing them directly to the students, they are starting to feel like Westport is recognized and appreciated, you can immediately feel its impact."
The entire student body of Westport filed into the auditorium with excitement and smiles on their faces as they were handed a Ravens backpack and worked their way down the aisles to fill them with supplies. The school also received additional items to hand out to students, which will help sustain them throughout the school year.
 "It is very exciting to see the smiles on their faces, knowing that they are appreciative of receiving these tools and that it takes one less worry off of their mind as they prepare to be successful in school," stated Charles Martin, M&T Bank Regional Community Reinvestment Officer.  "It's amazing when the city comes together like this, from the ACT members that donated the items, to the volunteers here today, and to the Ravens, who use their time to show a strong presence in the community, because as you see, the kids get so excited to see Poe, cheerleaders and the players."
This is the second year ACT has held a school supply distribution event. The mission of the ACT is to increase corporate and community awareness of the Ravens Foundation, Inc., player foundations and associated local charitable organizations. Through a wide variety of activities, the ACT makes a positive impact in the Maryland area while strengthening ties between the Ravens, their partners and the community. For more information on the Ravens All Community Team, please visit www.baltimoreravens.com/community.