After a three-game losing streak, Sunday's 30-7 win over the previously undefeated Denver Broncos was the perfect way for the Ravens' to get their season and playoff hopes back on track.
The Ravens were reeling coming of their bye week with three consecutive losses against the New England Patriots, Cincinnati Bengals and Minnesota Vikings.
It didn't help that the Pittsburgh Steelers and Bengals both won when the Ravens were on a break, furthering their lead in the AFC North.
But strong play from a previously struggling defense, a rejuvenated special teams and an offense that continued to find ways to move the football prevailed against the 6-1 Broncos.
Denver's only points came on an 86-yard drive that was aided by three Ravens penalties that totaled 44 yards.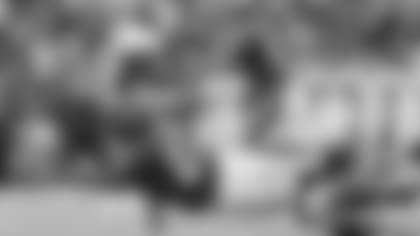 Baltimore was stifling against the NFL's ninth-ranked offense, allowing only 200 total yards, the fewest a Denver team has produced since 2003. The Broncos could only convert three of 13 third downs (23 percent) and totaled a season-low in points.
Ravens quarterback Joe Flacco
completed 20 of 25 passes for 175 yards. He completed 14 straight attempts to end the game.
And, for the first time this season, Baltimore's special teams showed up in a big way when rookie Lardarius Webb
returned the second-half kickoff for a touchdown.
"This is special," running back Ray Rice
said. "It was a game that we needed, especially coming off the bye week. To come out and play on all three phases the way we played, that was special. To watch our special teams emerge, to watch our defense step up and to watch our offense, not just play a second half, but dominate the second half against a great defense…
"They're a great team, but a lot of emotions were played in this game, and that's what the game is about."
Both teams started out slow, trading two punts each before safety Ed Reed
forced a fumble deep in Broncos territory that linebacker/defensive end Terrell Suggs
recovered on Denver's 23-yard line.
Three plays later, kicker Steve Hauschka split the uprights with a 43-yard field goal.
Hauschka would add two more field goals on the day, showing the Baltimore faithful that he had successfully moved past his missed potential game-winner in Minnesota.
The score was 6-0 Ravens coming out of halftime when Webb took Matt Prater's kickoff 95 yards nearly untouched to the end zone. It was the first time since Dec. 9, 2007 that a kickoff was returned for a score by a Raven (Yamon Figurs).
"Everybody just got their man," Webb said. "I just saw a hole and ran as fast as I can. We've been working all week on getting our man and staying on him for more than a second. This time, they got their man and stayed with them. I just ran."
Still, Denver answered Webb's touchdown with one of their own on their 86-yard march to close the margin to 13-7.
On that drive, cornerback Domonique Foxworth was flagged for a pass-interference penalty that cost 39 yards, safety Ed Reed was penalized for being offsides when the Broncos were going for it on fourth down, and then linebacker Ray Lewis
got called for pass interference in the end zone.
Rookie running back Knowshown Moreno simply bulled his way through Baltimore's defensive line for a 1-yard touchdown.
It was too little, too late, however, as the Ravens continued their trend of finishing red hot.
Baltimore entered the game tallying 66 points in the fourth quarter, the second-highest mark in the NFL. The Ravens added 14 more on Sunday against a defense that was the league's stingiest in the second half, only allowing 10 points in the second half all year.
Flacco completed his final 14 pass attempts for 156 yards, leading two late scoring drives.
One ended with a 20-yard pass to Derrick Mason, and the other was capped by a 7-yard rush up the middle by running back Ray Rice.
Operating out of a no-huddle offense, Flacco carved Denver's secondary up on the first march.
Before Mason's fourth touchdown of the season, he found Kelley Washington for gains of 18 and 21 yards. Then, Flacco delivered a pinpoint pass to Mason, who ran a deep slant over the middle and got free just over his assigned cornerback to create a tight window.
"It seemed pretty open to me," Flacco said with a laugh. "If that was the end result, that was the only place I could've put the ball. They dropped a safety down, and as soon as they did that, I knew where I was going. 'Mase' did a great job of beating him on the outside, and I just had to put it in there and let him do the rest."
That was followed by Rice's score, which was set up by fullback Le'Ron McClain. The Ravens' leading rusher from 2008 tallied 33 yards on Baltimore's 53-yard series before Rice took two tacklers on and stretched across the goal line.
Now, the Ravens look forward to two straight divisional contests away from home, against the Bengals and Cleveland Browns. And, the victory helps lessen the sting of losing the last three games by a combined 11 points.
"It definitely feels much better to get a win," Flacco said. "The last three weeks, even though we were close and we felt like we played really well, it's tough when you have to go back on Monday and watch yourself lose. It definitely felt good sitting on the sideline today knowing that we were coming away with a win."