An estimated 500 uniformed members of the military attended Ravens training camp Wednesday at the behest of head coach John Harbaugh.
And the Ravens did everything they could to welcome them.
Harbaugh, donning a camouflage hat emblazoned with the word "Surge," was the last Raven off the field after signing countless autographs and taking pictures with the servicemen and women.
Safety Ed Reed
was a close second.
That was after the military members joined in the practice-ending huddle and broke it down.
Family was the rallying cry.
"I'm sure it is special," said linebacker Tony Fein. "They do a lot of work for us. Coach Harbaugh preaches how hard they work overseas. We're very appreciative of what those guys do, and I know first-hand."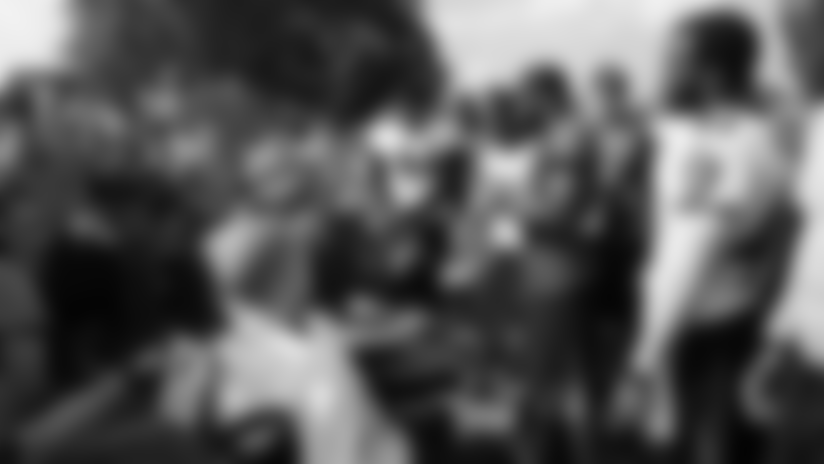 Fein, 27, certainly does.
As an NFL rookie, he is older than everyone in his class. That is because Fein served one year of duty in Iraq as a 19 Delta recon scout. Basically, Fein was the first person to sniff out the enemy.
Fein does not typically talk about his time in the Persian Gulf, but he was happy to see some of his brethren honored.
"The guys know about it," Fein said. "They were talking to me about it, and they asked me a couple of questions."
The Ravens fans came from many places, but there were some lifelong faithful that were from Baltimore.
Jason Scott, who is in the Air Force, is a born and bred Ravens fanatic.
"I've been a Ravens fan since they came here," said the 31-year-old. "I went in to active duty in 1996, and they had just gotten here.
"My kids love it, and I love it. Just being a hometown fan, it's great. I'm out of Andrews [Md.], so it's split between Ravens and Redskins. I'm always representing the Ravens. It's great to know that you have the support back at home with the community. We really appreciate it."
Scott knew about Harbaugh's summer tour of the Persian Gulf, where he visited troops over the Fourth of July Weekend with fellow NFL coaches Jeff Fisher and Tom Coughlin, along with former coaches Bill Cowher and Jon Gruden.
"I'm sure that was something that really boosted morale," Scott said. "He's always supported what we do. I even came out last year and talked with Ed Reed and some other guys, which was great."
Rookie tight end Davon Drew
has another special connection with the military.
Hailing from New Bern, N.C., Drew grew up between the important military installations of Cherry Point Marine Corps Air Station and the Naval Aviation Depot Fleet Readiness Center East in nearby Havelock NC, and Camp Lejeune Marine Corps base in Jacksonville N.C.
Drew talked at length with two members of the Air Force that were from his same town.
"We're from the same neck of the woods," Drew explained. "Our family members grew up together. My grandfather, uncle and father served in the military.
"You could always hear the jets flying by. In Craven County, you're definitely going to know that the military is there. I used to play rec. tournaments at the base. We'd swim at the base, too. You're going to find out about it from living there."
For the servicemen and women, Wednesday's practice was a great way to interact with some of their idols.
But for the Ravens, it was the other way around.
"We come out here and think practice is hard," said Drew. "They're laying their lives out there every day. I have a lot of respect for the wounded warriors coming out here. It's an honor to see them here. They look up to us, but our freedom wouldn't be possible without them.
"We really don't know each other, but I feel like we're all a family in that we're Americans."