The Ravens' emotional leader is back in the building.
Ray Lewis surprised his teammates and coaches at the Under Armour Performance Center Friday morning, rejoining the team for the first time since tearing his right triceps in the Oct. 14 game against Dallas.
He greeted his teammates in the locker room and eventually joined the team on the field at practice, wearing sweats.
Lewis hugged Head Coach John Harbaugh and the two struck up a conversation, laughing and chatting as they were both clearly happy he was back. He hugged other teammates as well.
"It's truly great to be back with my teammates," Lewis said in a statement released by the team. "I've really missed these guys and the feel of being around the team and in the locker room.
"I am focused on rehabbing and getting my arm and body as strong as they can be. I will speak in person when I know a little more about my progress. I'm working hard and looking forward to coming back and helping this team. But right now, the focus should be on the guys playing, and I'll be the biggest cheerleader I can be for them."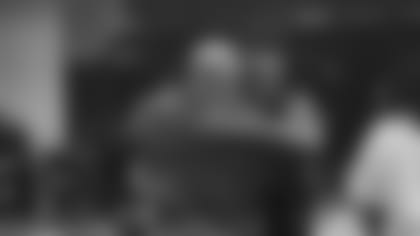 It marks the first time Lewis has said himself that he plans on returning to the field. There have been questions after the injury about whether the 17-year veteran would retire.
Lewis was impressively moving his right arm around. But Harbaugh did not provide any informal health update.
"There is no way for us to know enough about how far along he is or how he's doing," Harbaugh said. "We will just have to see how it goes here in all honesty and see how he does."
Lewis' visit was enough to convince outside linebacker Terrell Suggs that he could return to the field this season, however.
On Oct. 17, Lewis was given the special injury reserve designation allowing the possibility of a return on Dec. 12 (Week 15) at the earliest.
"It was good to see the general, the head of your cavalry out there in good spirits," Suggs said. "He seemed ecstatic. There's a good change getting him back this year to push our season to the max."
Lewis' arrival was a total surprise – except maybe to running back Ray Rice, who predicted it. Harbaugh said on Monday that Lewis "probably won't be in the building for a little while."
Then the future Hall of Famer just came strolling out onto the field.
"I was just walking to a drill there, and he came walking out. I was like, 'Hey! There's my friend,'" Harbaugh said with a laugh. "He's doing well. [He] gave a great talk."
He had been following his rehab protocol in Florida, following the advice of his doctors. Without him, safety Ed Reed was taking on the bulk of the pregame pep talks.
Teammates didn't know whether Lewis will be at Sunday's game versus Oakland or whether he has progressed far enough to move his rehab to Baltimore.
But they were excited to see him, even if it was for a short visit.
"It's amazing to have Ray back in the building doing what Ray does," linebacker Jameel McClain said. "He's inspiring people and letting everybody know life is bigger than just this game. That's what he's always about."