Ray Lewis said he could never imagine this day.
And when it came, his words stuck in his throat.
Then Lewis started talking about family – his sons. He took a deep breath, and out it came.
"Today I told my team that this will be my last ride," Lewis said.
After 17 years as one of the best players the league has ever known, Lewis announced his retirement.
But before he goes, he will play at least one final time and maybe more if the Ravens go on a postseason run.
After suffering a triceps injury on Oct. 14, Lewis spent 12 weeks in grueling rehabilitation for one last chance. He expects to play in this Sunday's wild-card playoff game at M&T Bank Stadium against the Indianapolis Colts.
"Everything that starts has an end. It's just life," Lewis said, grabbing at his face and flicking his tongue as if the words tasted bad coming out.
"I told [my teammates] I just felt so much peace at where I am with my decision because of everything I've done in this league. I've done it, man."
When Lewis suffered the injury against the Dallas Cowboys, doctors told him it would be season-ending. That meant perhaps career-ending considering Lewis is 37 years old.
Lewis immediately called Ravens General Manager Ozzie Newsome.
"I'm not going out like this. I'm not walking out on my boys like that," he told him.
So Lewis was put on the injured reserve – designated to return list. And from that point on, he underwent intense rehabilitation just to have a chance to step back on the field and play with his teammates again.
Lewis called it the craziest 12 weeks of training in his life.
"Pain was really the last thing that was on my mind," he said. "I just thought about getting through it."
But the injury also made Lewis further realize something else. It crystalized the importance of being a father first.
During his time at home rehabilitating, Lewis got a chance to watch his oldest son, Ray Lewis III, play his senior year at Lake Mary Prep in Florida, and his younger son go through his freshman year.
Lewis was there for the entire 11-1 season. He would fly back from rehabilitation to meet his son every weekend.
For that reason, he called his injury "bittersweet."
Had he not been injured, Lewis would have missed his son's season.
"I could never say I would do it any differently because of what I had the opportunity to do, and that's to see my babies go out," Lewis said.
The decision to prioritize family hits home with Lewis, who didn't have a father throughout his childhood. His father wasn't there the day Lewis was born, and the linebacker spent much of his youth angry with him and trying to erase him from his life.
"Me being who I am and not having a father myself, that damaged me a lot," Lewis said. "I didn't want my kids to relive that."
Lewis made a promise to Ray Lewis III that he would be there for him if he got a full scholarship to play football. Last March, Lewis III accepted a full ride to the University of Miami – just like his father – with his dad sitting in the room when he signed the papers.
Now Lewis intends to keep that promise.
"I can't miss that," Lewis said. "I don't know if I can sit in a meeting room and fight with that war."
"One of the hardest things in the world is to walk away from my team because that's my brotherhood.  The only thing I ever play for is to be right there and to raise Ed [Reed] and be with 'Sizzle' [Terrell Suggs] for so long and sit next to him, and we are so much on the same path. Does that part hurt? Absolutely. You can never rebuild those bonds. Those bonds are forever, but the chapter is huge for me to now step into other areas of life."
Lewis announced his retirement in a team meeting Wednesday morning. None of his teammates knew it was coming, not even those closest to him.
Outside linebacker Terrell Suggs said he was anticipating a speech about going on a playoff run. Instead, Lewis talked to them about life in general, about not being afraid to be men.
"It's going to be one hard last ride, and we need to make it one to remember," Suggs said.
As Lewis walked away from his press conference, running back Ray Rice – who is known as Little Ray, and has spent his career being mentored by the linebacker – looked up from a blank stare.
He pounded his chest with his fist and pointed to Lewis, who smiled back at him. Rice, like much of Baltimore, knew this day would eventually come. But neither was ready for it.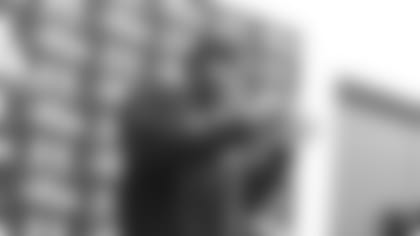 "I definitely didn't prepare for it," said Rice, who fought back tears. "I just can't picture Baltimore without him. He has kids, but I was one of his kids."
Before Lewis' leadership, inspiring speeches and pregame pump-ups disappear, Lewis will suit up and bang helmets at least one more time.
He said there is "no reason" for him to not play on Sunday against the Indianapolis Colts. It could be his final home game. The only way for the Ravens and Lewis to play another game at M&T Bank Stadium would be if they reached the AFC championship and were to face the Cincinnati Bengals.
"I think we all get to enjoy what Sunday will feel like knowing that this will be the last time 52 plays in a uniform in Ravens stadium," Lewis said.
"That moment to walk out of that tunnel Sunday, every person that was a Ravens fan in 1996 to this day, we will all enjoy that moment. We will all savor in that moment. I can't tell you how I will feel when that moment comes. I can only tell you it will probably be one of the glorious moments of my life."
Then it comes to the game. Lewis said his injured arm is 100 percent. He says he feels good. He'll likely step in next to linebacker Dannell Ellerbe, once again barking out the calls, once again playing with his signature intensity.
While this is Lewis' swan song, he doesn't intend it to be a short tune.
"I'm going to give [my teammates] everything I've got because this is our last one," Lewis said. "Wherever it ends, it ends. But I didn't come back for it to end in the first round."
And when it ends, Lewis will move on. As simple as that, it will be over.
It's not because Lewis couldn't play, however. He rehabbed to come back on his own watch.
"Four more football games in me?" Lewis said. "I've got way more than that. I just had to make the decision to cut it off at four."
With 13 Pro Bowls, two NFL Defensive Player of the Year awards and a Super Bowl ring on his finger, Lewis will walk away almost assuredly into the Hall of Fame.
But Lewis will be known for more than how he's played the game. He scoffed at his accolades defining him. Instead, he talked about how he wanted be known.
"I wanted to make men better," Lewis said.
"The emotions are very controlled because I never redo one day. Every moment I've ever had in this building, what this organization has done for me, what this city has done for me, what my fans have done for me, what the mutual respect for different players has done for me around this league, I can never take any of that back. That's the ultimate when you leave this game. You leave it with one heck of a legacy. Hopefully, I've done a heck of a job doing it, but it's time for me to go create a different legacy."