As Ray Lewis got dressed at his locker after Saturday's double-overtime thriller, he kept saying he had to be quick with interviews so he could see Peyton Manning.
Lewis and Manning – two legends of the game – met for the final time in Denver.
Manning had gotten the better end of things the previous nine meetings. In the final installment, the steely linebacker finally slayed the brainy quarterback.
But afterwards, all they could do was hug one last time as fellow players.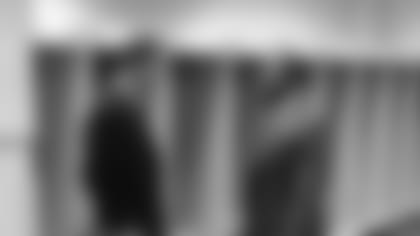 After Lewis finished with his interviews, he walked back into the Ravens' empty locker room and met with Manning, his wife Ashley and 2-year-old son Mosley. When Lewis walked in, Ashley said, "I'm so happy for you."
Lewis downplayed his battle with Manning all week leading up to the game. After being victorious in their last meeting, he reminisced a bit.
"The wars, that's why you do it," Lewis said.
"When you finally sit down, the only thing you remember is the great wars that you actually went against some of the greatest of all time. That man right there has the ultimate respect, because he is, in my book, probably the greatest of all time [G.O.A.T.]."
Lewis hadn't beaten Manning since 2001. Other Ravens players, such as linebacker Terrell Suggs or 36-year-old linebacker Brendon Ayanbadejo, hadn't ever done it.
"I'd lost to him twice in college, lost to him in the Super Bowl," Ayanbadejo said. "He's been haunting me since I was 21 or 22 years old."
Manning had haunted the Ravens in general.
But Baltimore put together a solid game plan to stop him on Saturday.
They dared Manning to run the ball in the second half with a lot of two-deep zone coverage with their safeties and man-to-man with their cornerbacks underneath. Manning handed it off 40 times and passed just three more, despite missing top running back Knowshon Moreno for much of the game.
The Ravens also took away the deep ball, forcing Manning to throw underneath. His tight ends Joel Dreessen and Jacob Tamme combined to catch nine passes, the same number as dangerous wide receivers Eric Decker and Demaryius Thomas.
Baltimore didn't touch Manning in the first half but hit him five times and sacked him three all in the second half. Outside linebacker Paul Kruger's pressure forced Manning to throw his ill-fated interception in overtime.
"Dean [Pees] did a great job of mixing coverage and mixing pressures," Head Coach John Harbaugh said. "Peyton Manning is just a brilliant quarterback and there were times when he thought there was pressure and there wasn't. There were times when he thought there was coverage and it was pressure."
Overall, Manning was held to 28-of-43 passing for 290 yards, three touchdowns, two interceptions and one fumble. That's a quarterback rating of 88.3.
Lewis finally got to say checkmate in his longtime chess match.
"When I was preparing this week, I was in awe of time and time again of how he figures things out, how he makes plays," Lewis said. "From that being said, to have us win, the way it happened, like I said, let His will be done."