This past offseason, one where news was focused on questions regarding his Ravens' contract, Ray Rice was doing what Rice does best: Spending time in the community and being a role model to our youth. Rice found time to hold football camps, rallies, school visits and support teammates, such as Lardarius Webb at his charity softball game.
Through the Ray Rice Charitable Fund, Rice was able to hold his signature event, Ray Rice Day, twice this offseason. The third annual camp was held in his hometown of New Rochelle, NY. On that day, amid hundreds of campers, family and friends, Rice was overcome with emotion, as his No. 5 high school jersey was retired. In May, Rice was able to extend his event to Baltimore, where over 700 children attended. "It means the world to me to be able to bring Ray Rice Day to Baltimore and spend a day with the kids giving instruction, encouragement and inspiration," said Rice.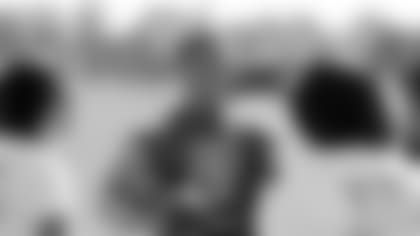 Some of his most inspiring offseason events were centered on his new initiative, "A Ray of Hope: A Pro-Kindness, Anti-Bullying, Teen Suicide Prevention Outreach." In May, Rice hosted an event at Howard High School where he talked to students and faculty shortly after the death of a student who took her own life after months of cyber-bullying. After hearing about the tragedy, Rice has made great strides in bringing awareness to bullying. In June, almost 4,000 people gathered at Merriweather Pavilion in Columbia for a night of fun and storytelling with a serious message: Teaching students how to identify, understand and put a stop to bullying. Rice reminded youth that they are not alone, and if they feel bullied, help is all around.
"You can be a hero to someone who is being bullied, just by being their friend," said Rice.
Just a few weeks ago, Rice met up with kids from Bridges at St Paul's School following the Ravens M&T Bank Stadium training camp practice. When asked how he has become the football player and person he is today, Rice said, "You know the story The Little Engine That Could? Everything I do I say to myself, I think I can, I think I can. I know I can." On and off the field, it's evident this simple phrase is what drives Rice and he doesn't show signs of slowing down.