As Ravens players arrived at the Immaculate Heart of Mary School on Tuesday (12/7), they were surprised to be greeted with the same energy and enthusiasm that they receive from fans on gameday.
Braving the cold and rainy weather, the entire student body created a wall of purple in the school's parking lot to welcome their special guest, running back Ray Rice. To truly capture the spirit of the stadium, the school band played the opening chords of the White Stripes "Seven Nation Army" while students chanted along.
Wide receivers Lee Evans and Torrey Smith, center Andre Gurode and running back Ricky Williams joined Rice for the NFL Play 60 Super School visit. Ravens cheerleaders and official mascot Poe were also in attendance during the special school assembly.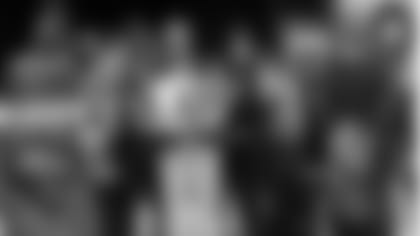 As the winner of the NFL PLAY 60 Super School sweepstakes in Baltimore, Immaculate Heart received a $10,000 NFL PLAY 60 grant for health and wellness programming or equipment and a visit from Ravens players. The school also received two Xbox 360 consoles with Kinect as part of Kinect for Xbox 360's collaboration with the Ravens and Play 60. To help support its commitment to a healthy and active lifestyle, the school will incorporate Kinect for 360 into its Physical Education curriculum.
During the assembly, Rice and his teammates congratulated the school for winning the contest and spoke about the importance of good health and nutrition. To show their appreciation for Rice and his commitment to the community, students surprised Rice with a $500 check to the Ray Rice Charitable Fund.
Evans' wife, Miranda, also spoke to the group about the Play 60 program and why it is so important to her as a mother. She also presented Joanne McShalley, the winner of the Super Parent award, with a $1,000 donation from the NFL and Head & Shoulders to support Immaculate Heart's athletic program.
After the assembly, players helped students get 60 minutes of exercise during the Ultimate NFL Physical Education Class.