---
When free agency opened on Feb. 27 and **Ray Lewis** was set to hit the open market for the first time in his 13-year career, rumors circulated that he was looking to leave Baltimore for another team.
Good riddance, some sectors of fans said. How can he be so selfish, others asked?
All Lewis could do is shake his head and laugh.
In his first public remarks at a press conference celebrating his new Ravens contract, Lewis rebuffed the idea that he was actively shopping himself.
He always wanted to remain with the franchise that selected him in the first round of the 1996 draft, the only team he's known throughout a Hall of Fame-caliber career.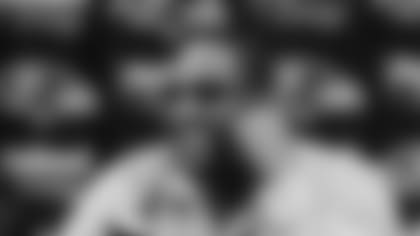 "Opportunity knocks every day of life," said Lewis, whose contract is reportedly for seven years. "Anybody can flirt with something at anytime, but the bottom line is, I know why I'm here.
"I've watched great [players] make that mistake of chasing something that isn't real. This is too serious to play with something that's been built since Day 1."
Lewis treated the six days between free agency's start to the time he agreed to the deal as somewhat of a vacation. He ticked off 26 straight years of football without a rest, which made his mini-offseason that much more special.
According to team owner **Steve Bisciotti**, the Ravens actually offered Lewis a contract before Feb. 27, but he asked general manager **Ozzie Newsome** to hold it while he tested the waters. Basically, that consisted of his agent contacting other clubs to gauge how much he could get as Lewis relaxed.
When no earth-shattering numbers were placed on the table, No. 52 took his rightful place back with the Ravens.
"He gave us 13 years; we gave him a week," Bisciotti said. "He went out there to see a lot more. No, he really didn't want to leave. But if somebody is going to offer him $10 million more over a three-year contract, I would tell him to go. There was no animosity."
And now that the contract is signed, Lewis is grateful to make football his sole focus for the remainder of his time in the league.
"To get all of this out of the way, here we go," Lewis explained. "You wait for all the other stuff to come, but that's the stuff you get excited for.
"We have the opportunity to do something around here that when I'm done, I'm going to be proud to say there's only one color jersey that I ever put on in my life. I don't want to shut down a lot of stadiums, and even I've flirted, but there's only one color jersey I've put on. For me, that is why I play this game. That is the legacy I've always chased."
The controversy began when Lewis answered questions regarding the possibility of playing with the Dallas Cowboys or for former Ravens defensive coordinator Rex Ryan and the New York Jets.
Then, Cowboys linebacker DeMarcus Ware told reporters that Lewis said that he wanted to wear Dallas star on his helmet.
Not true again, affirmed Lewis.
"That's where the conversation came from, because I told him my favorite two teams were the San Francisco 49ers and the Dallas Cowboys, back in the day," he explained. "It was really San Fran, but that's kind of where the conversation went.
"It wasn't, 'Oh, I'm going to be [a Cowboy].' No. You're talking about me, what I started from 1996, you know? Dallas has its own legacy. My legacy is with Baltimore."
Even if Lewis had donned an unfamiliar uniform for the twilight of his career, Bisciotti does not think that reputation will ever be tarnished. After 10 Pro Bowls, two NFL Defensive Player of the Year awards and a Super Bowl MVP, Lewis has cemented his status in Baltimore football lore.
So much so that it wouldn't be far fetched to eventually see a statue of Lewis next to former Baltimore Colts quarterback Johnny Unitas - who played his final season with the San Diego Chargers - outside M&T Bank Stadium one day.
"I wouldn't see it as the ruination of Ray's legacy if he went and played somewhere," Bisciotti said. "After 13 years, he might have been excited to go to New York, or he might have been excited to go to Dallas, do something different. If he had chosen that, then we'd all still be friends, and we'd still have the money to apply somewhere else.
"Listen, I think there's enough bronze in this world to get two statues out there."