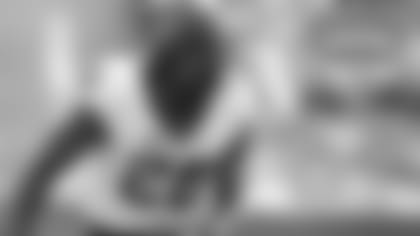 The Ravens could have a very different wide receiver corps next year, infused with young talent.
This year's Senior Bowl group offers plenty of options to choose from, including perhaps the top receiver in the draft.
James Washington, Oklahoma State
5-foot-11, 210 pounds; Draft projection – Rounds 1-2
Washington is one of the most explosive pass-catchers in the draft, and has premier production to back it up. He averaged nearly 20 yards per catch during his four years, finishing off his career by leading the nation in receiving yards (1,549) and Oklahoma State career rankings, ahead of idol Dez Bryant and Justin Blackmon. Washington won the Biletnikoff Award, given to the country's top wide receiver. He wins with speed at the line of scrimmage and plays bigger than his size with long arms and a great ability to make contested catches and finish with the ball in his hands. He consistently got open in Senior Bowl practices. Washington could challenge Alabama junior Calvin Ridley for the top spot at wideout in the NFL Draft.
Marcell Ateman, Oklahoma State
6-4, 216; Draft projection – Rounds 2-4
Ateman lived in Washington's shadow for stretches, but is a big-time prospect in his own right. He's a much different type of receiver. At 6-foot-4, Ateman is more of a power forward playing receiver. He goes up to make contested catches and proved to be a prime red-zone target with eight touchdowns in 2017. He posted 59 catches for 1,156 yards after sitting out his entire 2016 season due to a foot injury. Ateman had some drops early in the first Senior Bowl practice, but rebounded well.
Michael Gallup, Colorado State
6-0, 198; Draft projection – Rounds 3-5
Gallup put up big numbers at Colorado State with 176 receptions for 2,645 yards and 21 touchdowns over the past two seasons. He's a good route-runner who lined up all over the field for the Rams. He was a finalist for the Biletnikoff Award. Gallup said he needs to improve his speed to move up draft boards.
Jaleel Scott, New Mexico State
6-5, 216; Draft projection – Rounds 4-5
Scott is another towering wideout who creates mismatches and makes contested grabs. He still has good speed and athleticism (an ability to bend) despite that size. Scott posted 76 catches for 1,079 yards and nine touchdowns, and had two of his best games against his toughest competition (Arizona State and Arkansas). Scott has great leaping ability and seems to hang in the air to make tough catches.
Braxton Berrios, Miami
5-9, 177; Draft projection – Seventh round-FA
Berrios is the smallest player in Mobile. His 5-foot-9 height is rounded up from 5-8, 5/8 inches. No matter his size, the projected slot receiver clearly had something to prove while competing against the nation's top seniors. He made the best catch of any player on Day 1 with a leaping grab on a deep sideline route, then sacrificed his body while diving for a couple more throws later in practice, despite looking shaken up. Berrios, who is also a punt returner, made 55 receptions for 679 yards and nine touchdowns in his senior season.