PLEASE NOTE:The opinions, analysis and/or speculation expressed on BaltimoreRavens.com represent those of individual authors, and unless quoted or clearly labeled as such, do not represent the opinions or policies of the Baltimore Ravens' organization, front office staff, coaches and executives. Authors' views are formulated independently from any inside knowledge and/or conversations with Ravens officials, including the coaches and scouts, unless otherwise noted.
If people had forgotten about Ed Reed's playmaking ability, his standout performance in Sunday's 37-34 overtime win against the Buffalo Bills was a solid reminder.
In his first game of the season since being activated off the physically unable to perform list, Reed intercepted two passes, forced a fumble and generally gave the Bills' offense fits with a classic Houdini act, popping in and out of coverages like a magician.
When asked for his thoughts on the afternoon, Reed's reply was simple.
"Keep talking about who the best safety is," he told reporters with a wry smile. "Let me know."
All week, there was speculation if Reed would actually play after spending the last six months rehabilitating from offseason hip surgery.
But the combination of Reed getting through three days of practice and a foot injury to Tom Zbikowski, who started six games for the former NFL Defensive Player of the Year, cleared a path for Reed to patrol the Ravens' secondary.
"I knew it was going to be hard for myself and the team to hold me back from playing," Reed said. "That's why I went on PUP. If I didn't go on PUP, I probably would've been playing against the Jets [opening weekend] and that wasn't a wise decision."
There was a scare, however, when Reed returned his second interception 40 yards and was hit on the leg. Reed was briefly taken to the locker room by Ravens medical personnel, but returned never to leave again and logging two more tackles in the final period.
"I had a few bumps and bruises, which I knew was going to happen," Reed said. "The next couple weeks for me are like training camp, being that I've never tackled, been through the grueling part to the season. It's kind of like I'm going through training camp right now. I kind of expected some of the things I'm going through in a sense. You've got to fight through it."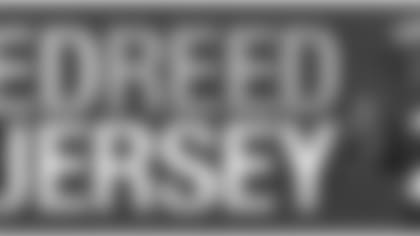 ](http://baltimoreravensstore.com/Ed-Reed-Home-Replica-Jersey.html) [
](http://www.replayphotos.com/baltimoreravensphotostore/shawn-hubbard-print/-_255067.cfm)
Aside from those minor bumps and bruises, Reed said that Sunday was an emotional return. From the deafening ovation he received walking out of the tunnel for pre-game introductions to the end whistle, the nine-year veteran said he found a fountain of youth.
"Oh man, it was beautiful," said Reed. "Just getting back out there with the guys, that was it. Coming out here and knowing the fans were going to be how they were, that was just a dream come true. It was like being a rookie all over again my first year here."
On a day when the Ravens allowed 506 yards – the most given up by a Baltimore defense since Dec. 24, 2000 – and 374 passing yards to Bills quarterback Ryan Fitzpatrick, Reed's presence was needed… game-changing, even.
In fact, if Reed hadn't made his two interceptions, Fitzpatrick and receivers Steve Johnson (eight catches, 158 yards and a touchdown) and Lee Evans (six catches, 105 yards, three touchdowns) might just have beaten the Ravens through the air.
"We've been working at it all week, and I knew it was going to be different with [Zbikowski] out and me coming back," Reed said. "I told the guys, 'Just bear with me for these couple weeks,' because I knew it was going to be tough communicating.
"There's a lot of calls I didn't make, and those guys just played around me."
Despite his own perceived shortcomings, the plays Reed made were of the variety that only players of his caliber accomplish.
Buffalo's first drive was cut short when Reed lowered his shoulder – the same one that was bothered by a nerve impingement in previous years – on receiver Roscoe Parrish, knocking the ball loose on a third-and-8 play.
Even though Fitzpatrick recovered the flub, the Bills then punted from their own 15-yard line, setting up a short field for Billy Cundiff's game-opening field goal.
If that wasn't a solid introduction, Reed exclaimed hello in the second half.
On the Bills' first play out of the break, Reed zeroed in on a ball tipped by linebacker Ray Lewis, netting his 47th-career interception and effectively changing the game's momentum. On the ensuing snap, Joe Flacco threw a 34-yard touchdown bomb to Anquan Boldin to give the Ravens a 27-24 lead.
Later in the third quarter, Reed stepped in front of receiver David Nelson to secure his ninth-career multi-pick game.
The Ravens were unable to convert that turnover into any points, but it did serve notice to the 71,220 in attendance at M&T Bank Stadium and the entire NFL that No. 20 is back.
"You hear everybody about all these players across the league, but nobody ever mentions Ed," said Lewis.  "We know how important Ed is to this team. I know how important he is to this defense.  Any time you get somebody to come back like Ed, it speaks for itself."