The Greatest, Muhammad Ali, sadly passed away at the age of 74 Friday night in a Phoenix-area hospital.
The Ravens will never forget the fighter or the man, and will especially treasure his visit to the Under Armour Performance Center in 2012. Just months before winning Super Bowl XLVII, Ali's visit was undoubtedly an inspiration for the team's Super Bowl season.
Boxing legend and American icon Muhammad Ali visited the Ravens' facility on Sunday and met with the team following the morning walk-thru. He is in Baltimore as part of fundraising efforts for his charity, Generation Ali.
*Ali's visit was a surprise to the players, and he was introduced to the team by Jack Harbaugh, the father of Ravens Head Coach John Harbaugh. *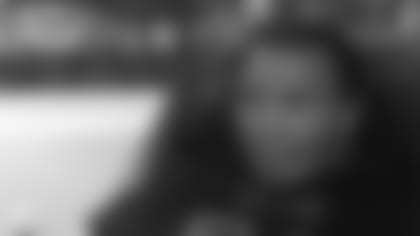 *The team watched a video clip of Ali during this morning's meeting and after practice Jack was speaking with them to tell Ali's famous "What's My Name?" story from his fight against Ernie Terrel. During the fight, Terrel repeatedly called Ali "Cassius Clay," which was his name before he converted to Islam. Ali won the fight convincingly and after he would land punches on Terrel, he would shout, "What's my name?" That story was the basis for the Ravens using "What's My Name" as their slogan during the 2008 season. *
As Jack was telling the story, Ali came out to the practice field on a golf cart and the players formed a huddle around him. They broke the huddle by chanting "champ."
*Players then lined up to take pictures with Ali and meet with him individually. *
After practice, many of them took to Twitter to share the unique experience.
Here's a look at some of the responses on Twitter:
Torrey Smith: "I can't believe I had the honor of meeting this man...thank you @Ravens for this memory."
Kelechi Osemele: "Just met a legend. My hands touched the greatest of all time. Muhammad Ali. #Legendary"
Bryant McKinnie: "Wow! We just had the honor 2 meet Muhammad Ali 2day after practice. #Legend #Greatness"
That wasn't the only time the Ravens had a connection with Ali. During Baltimore's 2008 playoff run to the AFC Championship, the team adopted the slogan, "What's Our Name?" First referenced by Jack Harbaugh in a speech to the team before the regular-season opener, it was a reference to Ali.
In 1967, after Ali changed his name from Cassius Clay, Ali pummeled boxer Ernie Terrell, and after every hit he would shout at him, "What's my name?" Jack Harbaugh told the story to the team, which was forming its identity in John Harbaugh's first year after coming off a 5-11 season.
Since then, John Harbaugh has used footage of Ali's fights or quotes numerous times to inspire his team.
Many current Ravens players have taken to Twitter to express their sorrow for losing "The Greatest."
RIP to the greatest of all time. Today is a sad sad day. — Keenan Reynolds (@kreynolds_19) June 4, 2016