Before Terrell Suggs' junior season at Arizona State, then defensive line coach and current Ravens Outside Linebackers Coach Ted Monachino called Suggs into his office.
Monachino knew Suggs was a goal-setter by nature. He also knew Suggs was an incredible athlete.
"How many sacks do you want this year?" Monachino asked.
"More than anybody's ever had," Suggs replied.
"How good do you want to be?"
With that motivation driving him, Suggs set the NCAA single-season record with 24 sacks and won the Bronco Nagurski Award, given to the best defensive player in the nation.
"I've always been driven," Suggs says. "But that's when I first took it seriously, in that meeting."
Eight years later, Suggs is coming off what he openly calls the worst season of his career. But he knows he's the same motivated person he was in college – no matter how many million dollars richer.
Suggs said he entered the offseason with a chip on his shoulder. He dropped about 20 pounds and is back to terrorizing offensive tackles. He's looking like the Terrell Suggs of old.
I didn't want to be the highest-paid anything. … A lot of stress came from that contract.

— Terrell Suggs
There's only one difference.
Now Suggs feels he has nothing to prove. He's got just one goal.
"Dallas, Texas. Lombardi," Suggs said. "I've had every individual award you can name, but they only last for the moment. Nobody will ever forget a Super Bowl champion."
Suggs would like to forget much of last year. His troubles began in the offseason, when he signed a reported six-year, $62.5 million contract, making him the highest-paid linebacker in NFL history. Along with the money came expectations.
"It wasn't like I was demanding the Ravens, or any team for that fact, to sign me to a big deal," Suggs said. "I didn't want to be the highest-paid anything. I just wanted what was fair and that was for the front office to determine.
Suggs spent the 2008 season trying to bulk up so he could be more dominant against the run and be considered a defensive end. He suffered a shoulder injury that year, which hampered his 2009 offseason training. Next came a preseason heel injury, which made it even harder to get into shape.
On the field, Suggs was still a force against the run. But the explosion off the snap and speed around the end wasn't vintage Suggs. In 13 games, with three lost to a knee injury suffered in Week 10, he logged a career-low 4.5 sacks.
"I guess in the end it kind of backfired on me," Suggs said. "I was always stout against the run. I just wanted to be more dominant. But the more dominant I got versus the run it kind of took away from my pass rushing. Now I've got to get back to doing me."
Teammates such as Ray Lewis, Trevor Pryce, Haloti Ngata, Kelly Gregg and Jarret Johnsonstuck by him, Suggs said. After all, Johnson said Suggs "probably demands the most respect on this team from his teammates" because of the plays he's made over seven seasons and the laid-back, good person that lies below the jokester he often portrays.
But Suggs was hurt by the criticism he received from outside the locker room.
After seven seasons of standout play and three Pro Bowls, Suggs felt like the media and fans turned on him – mostly because of his contract.
"I kind of really found out who was in my corner and who wasn't," Suggs said. "Last season was my worst season, but I was going to have that season regardless of whether I had a new deal or not for the simple fact that I was coming off a season that I got hurt and there were a lot of changes."
I kind of really found out who was in my corner and who wasn't. Last season was my worst season, but I was going to have that season regardless of whether I had a new deal or not. — Suggs
Suggs got away from Baltimore this offseason to clear his head at home in Arizona, which elicited more message board questions about his devotion to the team. He said he approached the offseason "with a chip on my shoulder."
His work in the gym is obvious. Suggs is chiseled again. But Suggs said it wasn't hard to lose 20 pounds this offseason. He just did the work his trainers put ahead of him and stayed away from the foods he was supposed to (like Kentucky Fried Chicken).
What helped him the most, he says, were simple pleasures like putting his kids to bed each night, waking up with them in the morning and driving them to school. Suggs says fans don't realize that professional athletes have their own lives away from sports.
"I'm not just a football player," Suggs said. "It's my sport. It's what I chose as an occupation. I'm also a father, someone's fiancé, someone's brother, someone's son. I wear a lot of hats.
"When you're with the family you're stress-free. Once I got away from the negative energy, that's when everything started to come together and I became Terrell again. I became my old self. I definitely feel happier."
With the pressure of his contract melted away, Suggs' ebullient personality took over Westminster, Md. He was constantly jabbering during training camp, talking trash on his offensive teammates and even coaches. One day he yelled out to Offensive Coordinator Cam Cameron to stop the "tom foolery" after blowing up a trick play.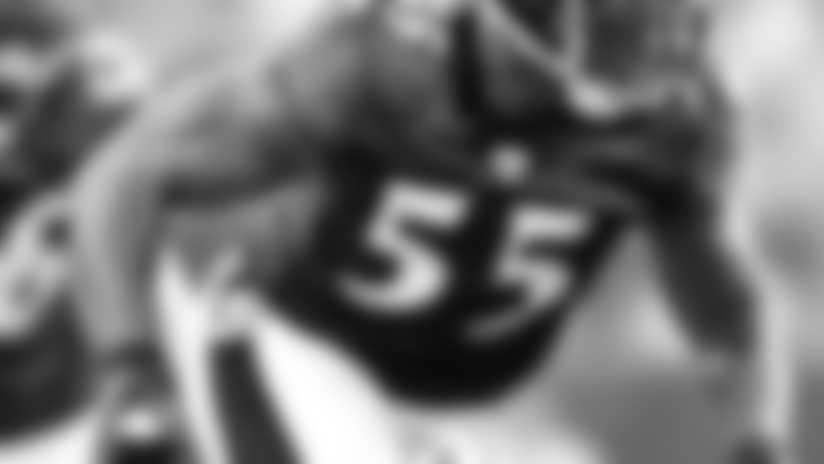 Suggs says he's having fun again.
"He always has played best when he has a smile on his face," Monachino added. "That comes with confidence and the guy really has supreme confidence right now."
Suggs has noticed a difference physically as well. Now listed at 260 pounds, doesn't get as tired and his explosion is visibly back. He manhandled Redskins first-round draft pick Trent Williams last Saturday, beating him multiple times before eventually notching a sack.
"He looks like a freaking action hero this year," Johnson said. "It's going to be a better year for him."
Suggs hasn't projected any sack totals this year. It's not about that anymore, he says. He's focused on winning for those who stuck by him last season, driven to win the division, secure a first-round bye and compete for a Super Bowl.
"I really don't feel like I have to prove anything," Suggs said. "It's not about me. It's more about what can we accomplish together. Individual stuff, that's easy. Getting all the way to the promise land is the challenge."
The past year has been a learning experience for the 27-year-old Suggs. But despite the trials that have affected him, deep down he is still the same player that sat in Monachino's office eight years ago, the same sack-artist waiting to break out.
"I've always wanted to be the best," Suggs said. "But throughout not only the season, but your life, you get different obstacles that come and alter that a little bit. But if you keep your eyes on the goal and stay on the path, you should come out the other end."