The opinions, analysis and/or speculation expressed on BaltimoreRavens.com represent those of individual authors, and unless quoted or clearly labeled as such, do not represent the opinions or policies of the Baltimore Ravens' organization, front office staff, coaches and executives. Authors' views are formulated independently from any inside knowledge and/or conversations with Ravens officials, including the coaches and scouts, unless otherwise noted.
As rookie outside linebacker Sergio Kindle walked out to the field for his first NFL practice, Ray Lewis came up behind him and slapped him on the helmet.
"Almost gave me a concussion," Kindle said with a laugh.
The following practice served to make Kindle's head spin even more.
Kindle was one of several rookies who claimed Monday's fast-paced first day of minicamp was quite demanding. But despite getting thrown into the fire, the rookies passed the eye test and got complements from Head Coach John Harbaugh after practice.
"I was really happy with the rookies, the draft choices, the free agents that we've signed and even the tryout guys in terms of coming in here and picking up the complexity of what we do," Harbaugh said.
Kindle stayed up until 11:30 p.m. Sunday night studying his playbook, giving him about five hours of rest before he and other rookies got their early wake-up call.
But the former Texas pass-rusher still felt overwhelmed, especially after seeing a good chunk of time with the first string since incumbent starter Jarret Johnson sat out the full team activities.
"The tempo out here is about 10 times faster than in college," Kindle said. "Especially with everybody throwing plays at you like bullets. First of all, you've got to try to slow down when your head's spinning and then you've got to try to make your legs run as fast as your head's going. It was just crashing together."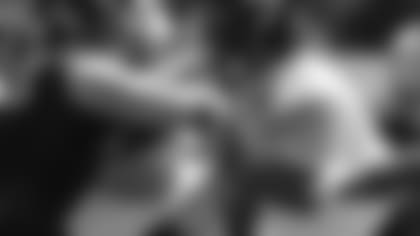 Speaking of crashing together, Terrence Cody also practiced with the first team as nose tackle Kelly Gregg sat out recovering from his shoulder procedure. On the first running play of practice, the former Alabama nose tackle swallowed up Pro Bowl running back Ray Rice.
The gargantuan Cody measured up to the tall tales, but looked in fine physical shape on his first day. Cody said he was 350 pounds on draft day and that he would like to get down to 340.
"He's been on schedule," Harbaugh said of Cody's weight loss. "He's been losing and lifting and training. I think he looks good. I think he's going to look even better when Training Camp starts."
Tight end Ed Dickson, the third-round pick from Oregon, made a great running, stretching snag over the middle of the field. Tight end Dennis Pitta, the fourth-rounder from BYU, made a good catch on a stop pattern, holding onto the ball as he was falling to the ground. He also shifted some into the fullback position.
"There is a lot of competition out there, and that's something I embrace," Pitta said. "Competition is a good thing and brings the best out of us as players. It's only been one day, and we have a lot of practice left, but hopefully I can continue to make plays and earn a spot."
Fifth-rounder David Reed of Utah is also in competition at the deep wide receiver position. He didn't get many passes thrown his way, but looked smooth when he did. Reed said he was having trouble digesting the offense and was getting a lot of help from fellow wideout Marcus Smith.
"He knows everything," Reed said of Smith. "I thought I had it. Then I was hearing words I've never heard before."
Fellow fifth-round pick Arthur Jones, whose college season was ended by a knee injury, suited up and saw some time on the defensive line.  Sixth-rounder Ramon Harewood played right tackle some with the second team.
"He probably did jump out because he is big and he's athletic," Harbaugh said of Harewood. "He's got really good feet, he can bend. He's a quick study and he's got a lot to learn. It will be interesting to see how high he can go."
Overall, it was a taxing, yet good day for the rookies. Kindle was asked if he expected it to get any easier on Day 2.
"Tomorrow we've got a whole other install [of the defense] to do," Kindle said. "So if those bullets come as fast as they did today then I don't know."