Sashi Brown will officially take over as Ravens team president on April 1, becoming just the second Black team president in NFL history, joining Jason Wright of the Washington Commanders.
The league's hiring practices regarding minorities and women have been under scrutiny for some time, and Brown hopes the Ravens' decision to hire him will lead to more diversity at the executive level.
"Well, I would hope so," Brown said. "That's a big, complicated topic, and the first thing I would say is we just shouldn't be here; we just shouldn't be here in 2022. And being only the second African-American. We still haven't had a woman who's at this point, ascended, although I think there's probably some arguments there's been one or two that haven't had exactly that title. And we need to do better. Wall Street needs to do better, and the NFL is no different."
Brown is pleased to be joining an organization that has been committed to social justice and diversity. Hall of Famer Ozzie Newsome, who is now Ravens Executive Vice President, was the NFL's first Black general manager and one of the most successful executives in league history.
In his new position with the Ravens, Brown knows he be can inspire other minorities who have aspirations to become team executives, which he addressed on "The Lounge" podcast.
"Men and women who are minorities have come up to me consistently and said, 'I know I don't work for you, but it just means a lot to see you in that position,'" Brown said. "You take that seriously. The first thing is, you want to do an excellent job. It takes on a little bit more meaning to you.
"We talk about excellence, chasing championships. If you look across a staff and there's no women, no Latinx, whatever the representation is, Black, Asian, that you're being honest with yourself about finding the best people out there. Diversity is about excellence at its core."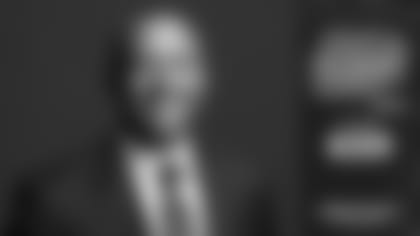 Sashi Brown Joins The Lounge
New Ravens Team President Sashi Brown joins to talk about his past, his vision and family.
Brown praised Ravens owner Steve Bisciotti and retiring President Dick Cass for their commitment to inclusion.
"I would say, throughout my career, I've looked to Baltimore as a place that, through Ozzie and the model that he represented here, and others – [former offensive coordinator] Jim Caldwell – who have come through here that have taken some positions [where] you didn't see Brown, Black faces in," Brown said. "Not only take those positions, but excel at a championship levels and win those titles, (it) has been a tremendous example.
"So, I'm hopeful to the extent [that] you certainly want to see more balance and change and opportunity for women and others – minorities. (If) my example can certainly open up some doors, then great, but I hope it's not contingent on the success of one individual. I think this is something that we as a league, we as an organization, need to be committed to, regardless of your background or color or gender. And we will do better here. It's going to be a commitment. I know it's important to Steve, it was important to Dick, that's why Baltimore has been a model on this topic, and we'll certainly continue to be under my leadership."