Cornerback Shareece Wright was the star of the Ravens' dominant defensive win over the Buffalo Bills in Week 1. Week 2 was a different story.
After making a team-high 11 tackles and giving up just 13 yards in coverage against the Bills, Wright surrendered four catches for 97 yards and a touchdown against the Browns.
But don't expect Wright to be sweating heading to Jacksonville this Sunday.
"It's an understanding. You have to understand that's how it works," said Wright, who was joined by teammate and high school friend Jimmy Smith on "The Lounge" podcast this week. [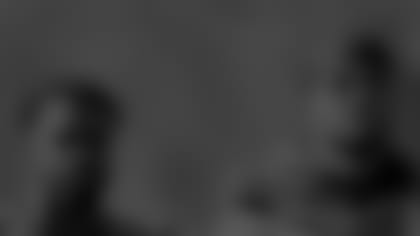 ](https://itunes.apple.com/us/podcast/baltimore-ravens-the-lounge/id1142013759 "Subscribe To The Lounge Podcast")
"Peyton Manning didn't throw for 300 yards every Sunday. He had his bad games when he threw four interceptions. When things are not going well, you've got to just understand that's how it works sometimes and stay mentally strong like, 'Next week is not going to be like this either.' Who knows what it's going to be like? I'll probably never make 11 tackles again in a game. That's just the way the NFL is."
Wright can safely say that the 31-yard touchdown he gave up to Browns rookie receiver Corey Coleman should have been wiped off his slate.
There wasn't a definitive replay angle to overturn it during the game, but a photograph straight down the line later revealed that Coleman's toe was out of bounds. Safety Lardarius Webb sent Wright the picture the next day.
"'I'm like, bro, I told you he didn't get in,'" Wright said. "But I can't be in that position anyways."
What's difficult about playing cornerback is that it's so easy for everybody to see when things don't go right. On the Browns' 85-yard touchdown run, it wasn't immediately clear who was at fault. There were multiple problems that led to the breakdown.
With a cornerback, however, it's quite evident when a receiver gets by them in man-to-man single coverage.
"It's not for everybody. We'll put it that way," Wright said. "You can't care what anybody else says. Anybody that's not out there on the field, they have nothing to say to me because they don't know what it's like."
Smith said cornerback is like playing quarterback. Confidence is paramount.
"If your confidence wavers, you won't play the same," Smith said. "You're out there covering their best guys, their fastest guys. You can play 55 snaps perfectly and give up one long pass and that ruins your day. You can't let anything affect your confidence. You have to have supreme confidence."