For anyone who has interacted with Steve Smith Sr., they know he is not one to be at a loss for words. But speechless is exactly what he was when told he would be nominated as the Ravens' representative for the NFL's Walter Payton Man of the Year Award.
Later, when asked his thoughts on receiving the Ravens' team award, he responded with a bashful grin on his face and simply said, "This is a special one." Bashful, another word you wouldn't associate with Smith.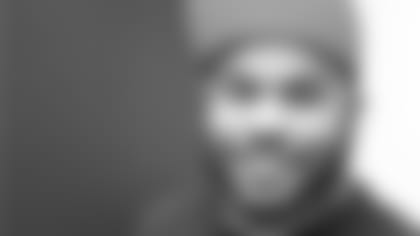 When it comes to Smith's work off the field, it's easy to see how proud he is of the things he continues to accomplish, yet he lets the work speak for itself. He remains very humble, while the community events he hosts and participates in are nowhere near modest.
This past week was the Raven's 11thannual Holiday Helpers event and each year a player steps up to be the host. It is the host's job to rally his teammates and collect funds from them in order to take nearly 70 kids shopping for Christmas at Target. Now, in his second year of leading the event, Smith personally fronted the funds used to shop, noting that he didn't want the responsibility to fall on his teammates. While players still took it upon themselves to make a donation, all Smith wanted from them was their presence at the event to make it a special Christmas for the kids.
"Steve Smith Sr. represents everything that is good about the NFL," explained Chad Steele, Ravens Vice President of Media Relations. "On the field he is a fiery competitor who challenges his teammates to be the best, and off the field he is a consummate family man and person."
Steele added, "He is a person who understands that his platform in the NFL can be used for bettering the lives of those less fortunate."
While Smith was nominated for the Walter Payton Man of the Year Award mostly because of his work against domestic violence, his community involvement remains far-reaching. From supporting Baltimore's House of Ruth, to his appreciation for our military and hosting a free football clinic for kids from military families, most recently at Maxwell Airforce Base in Germany, Smith tirelessly finds new ways to be involved.
He has adopted the Baltimore community and has bridged the work he continues to do in North Carolina. In the two years that Smith has been a Raven, he has hosted school visits, football camps, PLAY 60 events, food distributions and worked with Samaritan's Feet of Baltimore and provided over 200 pairs of new Under Armour Shoes to the Curtis Bay community.
This past season, Smith made appearances on stage in a competitive game of Heads Up with running back Justin Forsett at A Purple Evening, a women's event hosted at M&T Bank Stadium and supported the Goodwill Gridiron Halloween party as a mystery guest adorning a ghost mask. He also makes it a priority to attend fellow teammates' events, and flew to Baltimore in the offseason to play in Lardarius Webb's annual charity softball game.
If you love Steve Smith Sr. for not only his passion for the game, contagious smile, quirky sense of humor and unwavering community work, please help him become the 2015 NFL Walter Payton Man of the Year.
Fans still have a chance to vote for Steve by using his unique hashtag (#SmithWPMOYChallenge) on any social media platform. The player whose hashtag is used the most by December 31, 2015 will receive an additional $20,000 donation to their charity of choice, courtesy of Nationwide.