In remembering the Baltimore Ravens' historic Super Bowl XLVII run, one cannot forget the AFC divisional contest against Peyton Manning and the highly favored Denver Broncos. Despite the tension and emotion surrounding a game that would ensure the winner a slot in the AFC championship, Ravens guard Marshal Yanda remained calm. A self-described creature of habit, Yanda approached this game the same way as any other, partaking in a ritual that has never changed.
Before entering each series in a game, Yanda sprays water in his face to become alert and energized before stepping onto the field to face an opposing defense. Despite the sub-zero, freezing temperatures in the Mile High City that January evening, Yanda soldiered on and did not stray from his usual routine. Over the course of the game, however, the water began to freeze on Yanda's face and chest. The iciness became so intense that Denver's defense asked officials to check the icicle formations on his beard and jersey, thinking they might create an unfair blocking advantage.
For Yanda, this is part of his personal formula for performing at a high level every week. And by sticking to that formula, Yanda believes that while he cannot control the highs and lows that inherently happen in each game, he can control his approach and preparation. It's a mindset that has defined the three-time Pro Bowler for his first eight seasons in the NFL.
Quiet Confidence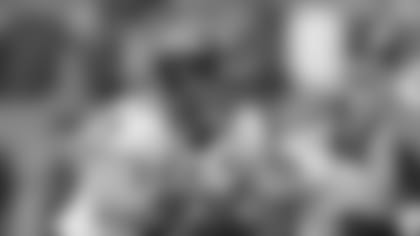 One of the most arduous, yet exciting times for NFL rookies is their first training camp when they adjust to new coaches, teammates and game plans. In 2007, after being selected by the Ravens in the third round of the NFL Draft, Yanda met this challenge head-on and embraced the grueling process meant to perfect his craft.
Yanda's intensity on the practice field – as he adjusted to the speed of the game at a pro level – did not go unnoticed. Ravens General Manager and Executive Vice President Ozzie Newsome recalls how Yanda began to build his reputation as a hard-nosed lineman early on.
"You would watch him go up against some of our defensive linemen – and the thing about it was, he probably hadn't gained enough strength at that point – but he was always a fighter. He was always battling," Newsome says.
In addition to fighting his way through blocking assignments in between whistles, Yanda took notice of the drive and technique of his fellow offensive linemen, highlighted by Mike Flynn, Adam Terry and Hall of Famer Jonathan Ogden. Yanda credits these men with teaching him how to hone his skillset in order to become a fundamentally sound player.
"I think he does it with a quiet confidence, too," Newsome explains. "We coined the phrase 'Play Like a Raven' because of players like Jonathan Ogden and Ray Lewis, but Marshal brings another element to it in that he just shows up every day, does his job, and you can depend on him."
Combining his natural instinct to strive for perfection with the lessons taught to him by veteran players, Yanda became one of three rookies who earned the opportunity to start on the Ravens O-line that season. He also quickly began to solidify himself as one of the most reliable teammates in the locker room.
The Team. The Team. The Team.
Outside the Ravens' weight room at the Under Armour Performance Center is a sign that reads, "The Team. The Team. The Team." The phrase is often used by Head Coach John Harbaugh to instill in his players a sense of camaraderie and brotherhood both on and off the field.
"I think it means you have a sense of accountability to yourself for the team as far as doing your job at a high level and being able to be counted on in the tough times when the game is on the line – play in and play out," Yanda expresses.
This sense of accountability has come to define Yanda. He thoroughly prepares himself to stand alongside his brothers, facing any set of circumstances that may be thrown their way throughout the course of a season.
"You know that you can count on him, and you know that you're going to get 100 percent from him every single time," affirms quarterback Joe Flacco. "He takes it personal and wants to be there for the team. He's just a guy that I can trust and respect, and when you have that guy right next to you, you don't have to be too worried. You're very confident, and you feel very secure in the fact that he's there."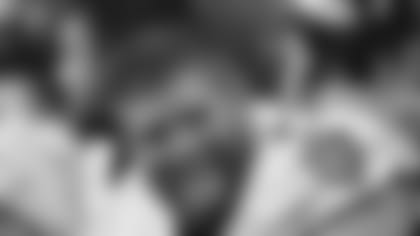 How dependable are Yanda and his fellow linemen in facing talented defenses? In 2014, the revamped front five have consistently protected their Super Bowl MVP quarterback, who is on pace to set multiple career highs and produce one of the best seasons ever by a Ravens' signal-caller. Led by Yanda, the O-line has also paved the way for Justin Forsett to run for over 1,000 yards for the first time in his career, placing the running back among the league's top rushing leaders.
The quiet and habitual way Yanda has performed his job has been instrumental in setting the expectations high for exactly how a Ravens offensive lineman is expected to perform.
Focusing On Today
Embodying steadfast commitment not only to himself, but also to his teammates, Yanda has steadily made a case for becoming one of the franchise's all-time greats. So much so, perhaps an induction into the Ravens Ring of Honor is not out of reach.
When asked what it would mean to one day have that distinction bestowed upon him, Yanda thoughtfully answered, "I'd be very fortunate if that ever does happen, but you have to take care of today, and you have to take care of this Sunday. When I get done playing, I can reflect on that."
While he is grateful for the success that potentially comes along with a storied career in the NFL, Yanda won't allow himself to become distracted by these types of thoughts.
"I think these games are so important that you can't sit and dwell on [individual honors]. If you get that in your mind, you start thinking about how good you are as a player, and you slip a little bit. All it takes is just a little bit to slip, so you try to stay locked in at all times."
With this outlook, Yanda has maintained the same blue-collar mentality since he arrived in Baltimore, allowing him to remain fiercely focused on today, all while preparing for his next opportunity to play the game he loves ... with icicles or without.