Shoppers Food and Pharmacy joins the Baltimore Ravens this November for the 13th annual Ravens Family Food & Funds Drive. Baltimore-area Shoppers stores will be accepting donations of canned goods and other non-perishables from Nov. 1 – 23.
In 2007, the November collection effort produced more than 24,000 pounds of food. The food and proceeds went directly to the Maryland Food Bank, which distributed the donated items to soup kitchens, food pantries and emergency shelters throughout the holiday season.
Two bins will be placed in each of the 18 Shoppers Baltimore-area locations to begin the collection this Saturday (11/1). Ravens LB Jameel McClain will launch the campaign at the Westminster Shoppers location this Monday (11/3) from 6:30 – 8:00 p.m. McClain will bag groceries and sign autographs for donations to the drive.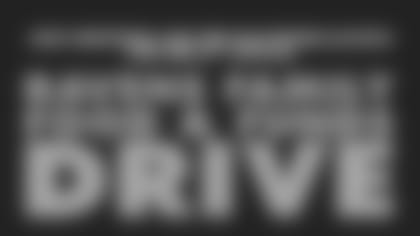 The collection will conclude on Sunday, Nov. 23, the day of the annual Food Drive at M&T Bank Stadium. In addition to the donations from the 18 Shoppers locations, the Ravens will collect non-perishables prior to the Eagles vs. Ravens kickoff at 1 p.m. The final poundage collected will be calculated and distributed through the Maryland Food Bank. The 13th annual Ravens Family Food & Funds Drive is sponsored by Snapple and Von Paris, which will transport collected items from the stadium to the Maryland Food Bank.
Each week, there are 50,000 people in Maryland relying on emergency food programs. The Ravens encourage all fans to donate non-perishable food items to help the less fortunate. Monetary donations will also be accepted at the Nov. 23 stadium collection.
WHO:Ravens LB Jameel McClain
WHAT:Ravens Family Food & Funds Drive Collection Kickoff
WHERE:Shoppers Food & Pharmacy