At the end of hot, three-hour training camp practices in Owings Mills, Md., John Harbaugh starts his personal workout.
Harbaugh and Director of Security Darren Sanders run up to eight 300-yard sprints (up, back and up the football field) with just a 50-yard walking rest in between.That is Harbaugh's routine.
Three other members of the security department don't even try to run with them anymore. It's too fast.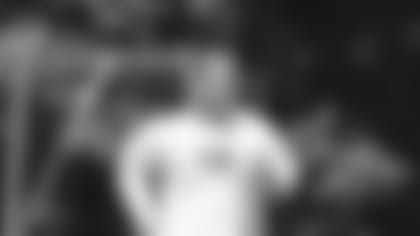 "Some coaches would just go in and eat," Harbaugh said with a chuckle.
"Football is a physical sport, a demanding sport. As a coach, it's not necessary, but it's a little better to reflect that. You want your players in shape. It helps if you're in shape."
In less than a month, Harbaugh will turn 50 years old. He doesn't look it at all, and that's probably because he's in ridiculously good shape. In fact, he may be the most in-shape coach in the NFL. (Harbaugh did divulge to me that he can out-lift brother Jim in the weight room).
"I'd have to say he's the most athletic at his age that I've ever been around – without a doubt, easily," said the 46-year-old Sanders, a former Baltimore City police detective.
"Sometimes I'll push him to run faster to see what he'll do. It must be that male ego thing because he never lets up. We can easily run together, neck and neck."
Harbaugh passed the Ravens conditioning test (like myself), except he did it for the middleweights whereas I barely made it for a heavyweight. He's also 21 years older than me, and probably didn't look like he was going to die at the end.
The other day, Harbaugh called some kids out onto the field after practice. If they wanted his autograph, they were going to have to work for it. The kids tried to hang but quickly gave up. They'd just catch him on the way back.
The head coach has done every workout his players have gone through – even the weightlifting. He doesn't do as many reps as the linemen, but he puts up some serious iron.
Harbaugh said it helps him relate to players that are half his age or younger. It also gives him leverage when a player can't pass the conditioning test or get through a routine.
"It helps if you can understand exactly what they're going through," Harbaugh said. "I know how hard [the workouts] are. I know what they feel like."