Who said football players can't be romantic?
Justin Tucker knew he wanted to do something special to propose to his girlfriend of five years, Amanda Bass. They met as freshman at the University of Texas.
Tucker wanted something so special that he had thought about doing it on sports' grandest stage.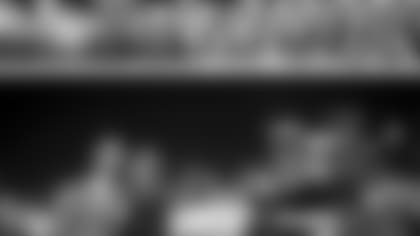 "How ridiculous would it be if I got to kick the game-winning field goal in the Super Bowl, then I meet Amanda on the 50-yard line on international television and ask her to marry me?" Tucker thought long ago. "After thinking about it for three seconds, I thought that was a terrible idea."
Well Tucker still did it up pretty special – and threw in a little panache befitting his personality.
Girls, get the tissues. Guys, get your notebook.
Last Friday, Tucker and Bass went to dinner at Wit* *and Wisdom at the Four Seasons Hotel Baltimore in Harbor East. At one point during the meal, Tucker excused himself to go to the restroom. Instead, he snuck up to the pool deck. Bass was escorted up, told she was just going up to join Tucker for a special dessert amidst Baltimore's skyline.
That's when she saw the deck illuminated by a candle runway and two members of the Baltimore-based band "All Time Low," serenading her to the song "Marry Me," by Train. Tucker, Bass and the guys from "All Time Low" have all become friends.
Talk about a romantic, right?
Tucker gave Bass a speech and dropped down on one knee. The response?
"I thought the best part of it was that she didn't even look at the ring," said Tucker, still beaming in the Ravens locker room. "I just hope she likes me and continues to like me."
Tucker said he and Bass are thinking they'll get married in the spring of 2015. And Tucker said she probably wouldn't have liked the whole Super Bowl proposal in front of millions of people anyway.
"She knows me better than anybody and I know her better than anybody," Tucker said. "More than anything, I wanted something that was just us, but still at least somewhat grandiose just cause that's the kind of guy I am, I guess."
Check out the pictures and blog from Ravens team photographer Shaun Hubbard, who Tucker hired to hide in the bushes and snap pictures (mobile users tap "View in browser")
Congrats to the cute couple!