For the longest time, the Ravens simply had a huge picture of the Lombardi Trophy hanging* *at one end of their indoor practice facility.
Well it's got company now.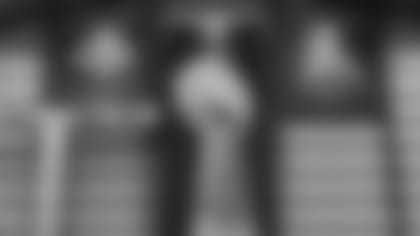 After winning the franchise's second title (in just 17 seasons, mind you), the Ravens have hung banners commemorating Super Bowl XXXV and Super Bowl XLVII on either side of the Lombardi.
They have adorned the other wall with banners honoring their four AFC North division championships in 2003, 2006, 2011 and 2012.
The banners were hung very recently, so not all the players have seen them. But the ones that have been around the facility this spring have taken notice.
"As a young kid, everybody dreams of playing in the Super Bowl. To actually win it and to hang that banner, it means a lot to a lot of people around here," linebacker Courtney Upshaw said.
The picture of the Lombardi Trophy was a constant reminder of what the team was striving for. It seemed to glare down during practices.
Now what's the feeling looking up at two banners?
It seems to be two-fold: one a feeling of pride, and another of motivation.
"When you go in there and practice every day, or go run, you look up there and say, 'I was a part of that team that helped bring a championship to Baltimore,'" Upshaw said.
"It's extra motivation to want to get back there. We all know how it felt to be a part of that team. You look up there and you want to get back to have that feeling again."
It's cool to see a collection starting at the Under Armour Performance Center.
What's crazy is to think about how there could have been more.
The Ravens were painstakingly close to at least appearing in two more Super Bowls during the John Harbaugh era in the 2010 and 2011 seasons. And let's just say the Ravens are 2-for-2 in Super Bowl appearances.
But more importantly, I'm looking forward to seeing more go up in the future.