The uniform police are out again, and they're busting the newest fad among NFL players – the super hardcore facemask.
Before every game, an NFL official thoroughly checks every bit of the players' uniforms, giving them warnings or fines for transgressions. Former Baltimore Colts safety Bruce Laird has been doing it at M&T Bank Stadium since 1998. Due to a new NFL mandate, Laird will have his eyes peeled for facemask violations.
Ravens defensive end Chris Canty has been given the OK by the league office to keep wearing his for medical reasons associated with an eye injury he suffered in 2005. But Terrell Suggs said he's been denied and Elvis Dumervil isn't planning to wear his anymore either.
Last year, Suggs started wearing a facemask with five horizontal bars and just three vertical ones. So did Ray Lewis. Dumervil wore a similar one in Denver. Quite frankly, they looked awesome.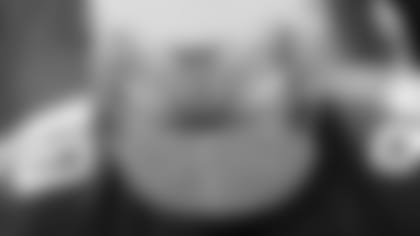 But it's back to the simple grill now.
"I'm preparing for the worst," Dumervil told me. "But why worry about facemasks? There's nothing I can do about it so we'll see. I'm just focusing on hitting the quarterback."
"I'm going to try to get a doctor's note," Suggs joked with me.
I hate to say it, but I'm coming down on the NFL's side on this one. And the reason is that this whole thing was starting to get out of control.
Look at Arizona Cardinals defensive end Darnell Dockett's facemask. That thing is just ridiculous. This is a classic case of giving an inch and taking a mile. Players like Dockett ruined the fun for everybody.
Now Suggs and Dumervil won't look like "Bane" anymore. They won't look as scary. But with the nicknames "Sizzle" and "Doom," at least they'll still sound scary. Oh, and they'll be crushing quarterbacks too, so that should be frightening.