Robert Myers was given the nickname "Snacks" by his college coaches.
"They said that I was the first one in the café, and the last one to leave it," Myers said with a laugh.
Well, the Ravens' fifth-round rookie guard has a better nickname now that he's in the NFL.
The nickname originated at the combine when Myers was called "Quadzilla" by NFL Media's Shaun O'Hara, an 11-year offensive lineman.
The images of Myers' quads busting out of his super tight short shorts spread across the internet. They were blogged about by FOX Sports, SB Nation, and many more. Sports Illustrated declared him the combine's "most interesting man."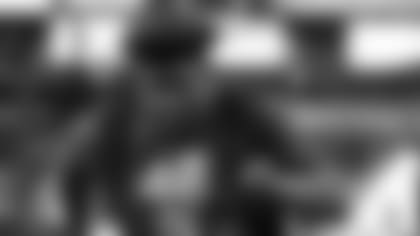 Myers said his quads are about 33 inches around. That's the size of my waist.
His college strength and conditioning coaches wouldn't let him squat more than 500 pounds, but he thinks he could put up at least 600.
The small-school Tennessee State product was surprised by all the attention his massive legs drew, but also kinda flattered.
"I could take on the nickname," Myers said. "I'm pretty proud of my lower body and how big it is."
While Myers' tree trunks have gotten the acclaim, he would rather you to divert your eyes to his hair.
It's really quite unusual. The best description I can think of is that he looks kinda like "Toad" from Mario Kart, or maybe a head of broccoli.
"I never used to cut my hair," Myers said. "Even through high school, my mom was like, 'Go get a haircut!' I don't know, something about a haircut, I never liked a haircut."
In college, his coaches started getting on him to go to a barber. Finally, he got a little tapered fade cut, then went to a Mohawk.
"My Mohawk was really cool for a while, but it got too long," he said. "A year ago, I was like, 'I'm going to cut the back off and just wear it.' My hair curls and I condition it and stuff. It just came out great."
Myers openly admits to taking very good care of his hair and caring a great deal about how it looks. He blow dried it for college team picture day, which got him yet another nickname of "diva."
Check out photos from Robert Myers at the 2015 NFL Combine.