Tight end Alex Silvestro played the "Fun Run" app on his smart phone.
Guard/tackle Jack Cornell tried to balance an apples and oranges tower.
Backup quarterback Tyrod Taylor scrolled through his Instagram account.
This was the scene at Wednesday's open media session. Perhaps a better name for it is a popularity contest, or a giant middle school dance.
The only player to have a solo press conference was Ray Lewis, who drew hundreds of reporters stepping on each other's toes.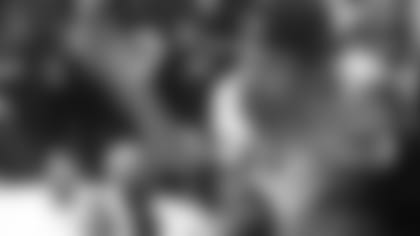 In another room, there were a few big names that were on elevated platforms by themselves like Torrey Smith, Ray Rice and Terrell Suggs. There were some players with their own tables on the floor like Matt Birk, Haloti Ngata and Michael Oher. Then there were some tables stuffed with three or four players.
It's the interview hierarchy.
Every single Ravens player AND COACH is REQUIRED by the league to be available to the media for an hour. But supply doesn't meet demand. So there are a bunch of guys who nobody really needs to talk to that are forced to sit there and twiddle their thumbs for an hour.
At first you kind of feel bad for them. But then you realize they're big boys, and they're at the Super Bowl. Life ain't so bad.
I asked injured reserve running back Bobby Rainey, who was slouched in his chair with his head buried in his phone just like the four other players around him, how bored he was. He busted into laughter.
"It is boring, but it's not boring," he said. "I wouldn't rather be anywhere else. At the same time, this time right now is very boring."
Asked what he thinks of seeing hundreds of reporters around Lewis while I was the only reporter talking to him (basically asking in a nice way what it feels like to be unpopular), Rainey took it in stride.
"That's motivation for me," he said. "That's my goal is to have that same thing next year."
It's not just injured or practice squad players getting the cold shoulder at the Super Bowl. Even Pro Bowl guard Marshal Yanda was largely ignored. At one point early on I felt so bad for him that I asked him pity questions.
"I'm a behind the scenes guy," Yanda said. "I don't really need any recognition other than from the coaches. I understand my role."