In junior high, Joe Flacco![](/team/roster/joe-flacco/3e20766f-6520-4ca1-9901-44389aaea8b8/ "Joe Flacco") was given the nickname "Melonhead."
This begs two questions: Who in Baltimore actually knows that now, and who wasn't afraid to offer this type of information about the standout NFL player?
Answer to both: Mike Flacco.
Mike, the younger brother of Joe and second oldest of six, has lived with Joe since the start of the 2008 season. While everybody in Baltimore knows Joe's football story, nobody really knows Joe the way Mike does. In fact, many people aren't even aware that Mike is also an emerging star – only he's making a name for himself on the diamond.
As a freshman on the Community College of Baltimore County at Catonsville baseball team, Mike batted .399 and led the junior college league with 14 home runs this spring – nearly doubling the total of the next best slugger. Having now caught the eye of professional scouts everywhere, the power-hitting third baseman is hoping to get drafted by a Major League team this June. (To read more about how Mike made his way to Baltimore, check out my Can't Miss II below.)
Now, back to Melonhead... Over the past year, we have all learned who Joe is as a football player. Ever so naturally, the qualities he exhibits as a leader of our team have surfaced. Joe is calm, collected, low-key, hard-working and respectful.
But what about Joe off the field, when he's with his friends and family? How was he as a kid, and what has helped make him who he is today?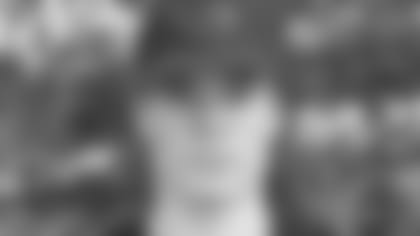 In an effort to provide a fresh – and perhaps amusing – perspective of No. 5, I talked with Mike this week and asked him some questions. After all, there aren't many people who know Joe better than Mike does. So here's what he had to say about his older brother/roommate, who also just happens to be the Ravens' starting quarterback.
You play baseball and you were a quarterback in high school. So, what's harder? Hitting a wicked curveball or completing a pass as the pocket collapses?
"They are both really hard, and obviously, for certain people, one is easier than the other. But, for the average person, I'd say hitting a ball is harder than standing in the pocket."
When it came to baseball, were you always better than Joe?
"I was always better." (laughing)
OK, so how would your brother do if he filled in for you in a game at Catonsville?
"At third base, I think he'd be pretty rough. If you stuck him in the outfield, I think he'd be fine though. Joe never really played in the infield. Actually, he would drop balls that hit him right in the glove in the outfield. *(laughing) *I don't think he'd field a ground ball too nicely now.
"You can't really play catch with him… He's got a strong arm, but he's all over the place. I don't think he could hit the first baseman if he had to." (laughing)
So Joe has no control with a baseball?
"When he throws it hard, he's got decent control. But if you just try to play catch with him, he can't hit you. You've got to bring 10 balls."
So Joe's arm strength transfers over to baseball?
"Oh yeah. He could throw 87, 89 [miles per hour] off the mound. He just never could get it over 90."
How would you do if you stepped in for a series against the Steelers?
"I think I'd be scared. I'd feel like a skinny-mini person out there, even though I'm 6-5, 215 pounds. I'd feel like I'd get broken in half. I'd look at James Harrison and just freeze."
If I asked Joe what your shining moment has been in sports so far, what would he say?
"He'd probably say in Little League, during my 12-year-old season, when I hit 13 home runs in 16 games."
Now, what would you consider the highlight of your brother's career?
"Getting to the AFC Championship game last year."
Was there a point you realized your brother could succeed in the NFL?
"Growing up, it was just always expected that we were going to be in the NFL or in Major League Baseball. At one point, I was convinced I was going to play baseball, basketball and football at the pro level. It was just always expected.
"Over the last couple years, we began to realize just how hard it is to get to that point and how good you have to be. Just knowing Joe, and how good he was, I always assumed he'd be at the pro level. But, it's crazy how it happened so fast and how it came together last year."
Does your family ever sit back and realize just how amazing 2008 was for you all?
"There have been certain times when we just look at each other, when we're eating dinner, and think, 'Did that really just happen?' It's pretty awesome."
What's the one play from Joe's rookie season when you had that "wow" factor?
"The first play was on that reverse to Mark Clayton against Cincinnati. Joe actually made a block out in front of Mark and they scored a touchdown. And then, when Joe scored his first touchdown off that 40-yard run against the Bengals… That will probably be the longest run of his career. That all was pretty crazy."
What's the greatest piece of advice Joe has given you?
"He obviously has the talent to play in the NFL. So, I think the biggest lesson he taught me was that when things don't go your way for stupid reasons you can't control – like when he was at Pittsburgh and he had to transfer to Delaware – if you just put your hard work in, somebody will see you. That's what he did, and it worked out for him.
"Now, I'm in a similar situation here at Catonsville. I'm an old kid, baseball-wise. I hadn't played in a couple years, and I'm now just looking to get a shot."
Explain what your brother is like a night or two before a game. How much do you guys talk about the opponent or how he is feeling?
"He usually talks to our dad about the game and what's going on that week. In the apartment, he's actually just his normal self. He's laidback. We always go out to dinner, come back and just watch some TV shows. It's actually pretty boring."
Can you explain what it was like when you – including your dad and brothers – were all running routes for Joe at home as he prepared for the 2008 draft?
"At times, it was pretty funny because our dad is always thinking he can do [athletic] stuff. It was funny seeing him, a lot older than us, trying to run routes and trying to catch balls. (laughing)
"Joe actually hurt my shoulder, though. He jammed it back with one of the balls he threw. I caught the ball in front of me, and it jammed my shoulder."
Has there ever been something you pointed out to Joe about football, and he said, "You know what, Mike? You're actually right."
"Joe is obviously a lot better than I am at playing quarterback, so I don't try to give him any advice. Usually, I just make fun of him for his running ability. (laughing) That's what I stick to… I just make fun of him and his lack of moves. I always had at least a little bit of moves growing up. He's pretty fast when running straight ahead, but I'm definitely a better runner overall."
So who wins in a 100-meter dash?
"Right now, I'd say me. He would definitely claim himself, so we'd have to race to decide. But I know I would win."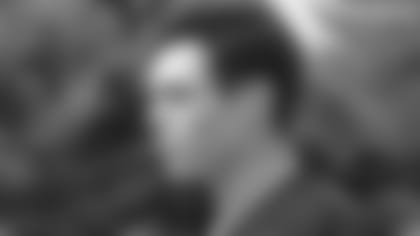 Was there a moment you recall when your big brother stood up for you and/or another sibling?**
"Joe always stood up for us. He included me in everything. There isn't a specific incident, but he has always included me with his friends and in anything he did."
Joe has been able to make it to the NFL because of…
"Mom and Dad. They supported him all the way up and always believed in him."
The best decision Joe has ever made is…
"Transferring to Delaware."
"Giving a kid an autograph. He has given so many of them, and he is always willing to do it."
"Keeping him company this year in Baltimore."
Most people don't know that Joe…
"Falls asleep on the couch at 9:30 every night during the season."
At home, it drives Joe crazy when I do…
"Pretty much anything. (laughing) But mostly, it's just leaving dirty clothes and dishes around the house. The house is a mess because of me. He's not a neat freak, but I am pretty messy."
The nickname Joe had as a kid was…
"'Melonhead.' There was a short time there in junior high when he was called that. There was also a time when our dad called him 'Shaggy,' because he never wanted to get a haircut. He always just let it grow."
Growing up, we teased Joe the most about…
"Not hitting any home runs in Little League. I hit the 13 in that one season, and Joe hit none his whole Little League career. One of the other things they made fun of him for in high school was that his right arm was huge and his left was really skinny. There was a pretty big, noticeable difference."
Joe and I just don't agree on…
"Not that we ever talk about this or I'd make him try to do it, but that he should buy me a new car. Right now, I drive an old '92 Volvo. It starts up sometimes, and it doesn't start up sometimes. I guess he does buy me nice dinners every night, though. Plus, I've been able to live in this good apartment."
I saw Joe the most excited last season when…
"He scored that rushing touchdown against the Dolphins in the playoffs. That sealed the game, and I could tell just how pumped he was. You could see the emotion then."
Joe will be a great NFL player because…
"He's determined to be successful. He's also laidback. I think one of his biggest strengths is that he doesn't get too high and he doesn't get too low. There's a lot to be said for that."
CAN'T MISS THIS
In the newest edition of ESPN The Magazine, our Pro Bowl special teams ace Brendon Ayanbadejo was featured in the "Sweat Spot" segment. Brendon, who pound for pound might be the strongest and fittest Raven, recently traveled to New Mexico to train with his good friend, Rashad Evans.
Now, for those who don't know, Rashad isn't your typical athlete. To be honest, he's more along the lines of your prototypical badass.
Listed at 5-11, 205 pounds, Rashad is one of the – if not the – top mixed martial arts (MAA) competitors in the world. Currently undefeated with a 13-0-1 record, he'll be fighting Lyoto Machida (18-0) this Saturday in the Ultimate Fighting Championship (UFC 98) at the MGM Grand in Las Vegas.
Undergoing intense – and borderline insane – three-a-day training sessions over the past several months, Rashad invited Brendon down to Albuquerque in mid-March to take part in the mayhem. In addition to the article that ran in The Magazine, ESPN film crews were there to detail B.A.'s adventure (video will be posted on ESPN.com next week).
"I thought I was in good shape, but Rashad just abused me," Brendon told me upon his return to Baltimore. "For days after, I was sore in places I never knew existed. It was the most intense thing I've ever done."
CAN'T MISS THIS II
Punch it here for a great feature on Mike Flacco that appeared in the Washington Post on April 29. In a piece by Josh Barr, we find out how Joe's younger brother made his way to Baltimore and why he's poised to do some big things in baseball.
NOTE THE QUOTE
After we signed our crop of rookie free agents two weeks ago, I noticed something unusual about CB **Kevin "K.J." Gerard**, who was assigned to wear the jersey number 40.
While doing research to write his bio, I realized that several Web sites and sources listed his first name as either "Kevin" or "K.J." There wasn't an overwhelming, consistent name. So, I asked our PR intern, Kristen Deahl, to speak with Gerard to find out exactly what he wanted to be called and from where the moniker "K.J." derives. Kristen reported back to me at the end of the day with an answer, and here's how our conversation went:
Me: "So what's the verdict on Gerard?"
Kristen: "Well, I found out what 'K.J.' stands for, but you probably won't believe the whole story."
Kristen: "He actually has two first names: Kevin and Joseph – so, K.J."
Me: "OK, makes sense. Does he have a middle name?"
Kristen: "Here's the interesting part. His middle name is also 'Joseph'… No joke, his full name is Kevin Joseph Joseph Gerard."
Me: "Ooookaaaay. That's a first… and quite a tongue twister. So what, exactly, does he want us to officially list him as on the roster?"
Kristen: "I asked him that, and he said: 'Well, right now, everybody just calls me 40. I'll have to get back to you on that one.'"
Rodney Dangerfield was never an NFL rookie, but sufficient to say, I think he could relate… Just no respect.
NUMBER TO RAVE ABOUT
Reps our free agent DT **Will Johnson** bench-pressed 225 pounds during Michigan's Pro Day workouts in March. The 47 reps set a Wolverines' record and are believed to be more than any player has ever produced at the NFL Scouting Combine. (The Combine record is 42 reps, set by tackle Jake Long in 2008.) Amazing.