The Ravens fly to London this week to meet the Jacksonville Jaguars in historic Wembley Stadium.
But much of the fun surrounding the game will be the meeting of passport-clenching Baltimoreans and a passionate group of purple-clad Brits who are more fervent than people stateside probably realize.
Like most good British tales, the story of the Ravens' growing, passionate and knowledgeable fan group in the United Kingdom begins in a pub.
It was 1990 and Dave Cressey, now 51, had recently graduated from university, so he came to Baltimore to visit a friend. The trip's itinerary was basically one long bar hop.
On one particularly aggressive night, Cressey got to chatting with a guy named Tom Mitchell, who always got along with rugby players such as Cressey. The two got talking about football, as pretty much everybody does in Baltimore bars, when Cressey asked, "So did you play?"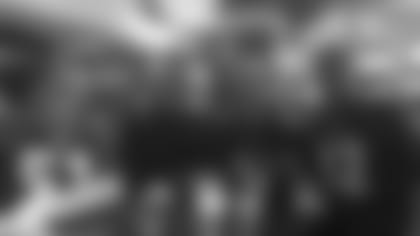 Yeah, Mitchell played six years as a tight end for the Baltimore Colts. He was wearing his Super Bowl V ring.
Mitchell told Cressey all about Baltimore's football history, from the Colts' decades-long dominance to the Mayflower trucks taking the city's beloved team out of town. A couple nights later, the carousel stopped at the Westminster American Legion. Cressey got the same, sad story.
"I guess everyone's a Redskins fan in this town then, huh?" Cressey recalled saying. "I got a tap on the shoulder with someone saying, 'We ain't stinking Redskins fans here, mate.'"
Doubt anybody from Baltimore said "mate," but you get the idea.
That night, Cressey vowed that if Baltimore got an NFL team back, he would root for them.
For the time being, he would be a Cleveland Browns fan, following the interests of a friend. Six years later, Art Modell moved the Browns to Baltimore, and … blimey! … it was a perfect fit.
"I was a Ravens fan before the Ravens were the Ravens," Cressey proudly says.
The downside is that he may have been the only one in England. Cressey says that up until the 2000 season, when Baltimore went on its Super Bowl XXXV run, the Ravens were practically unheard of across the pond.
For example, Cressey says SKY Sports broadcasted just one Ravens game in the previous four seasons. It probably didn't help that Nick Halling, who was an American Football commentator for SKY Sports for 15 years, openly said he was a Pittsburgh Steelers fan.
With the Internet still in its infancy, NFL news was scarce in England. The best source was "Touchdown" magazine, and Cressey sent them a couple letters begging for Ravens coverage but got no reply.
Cressey watched Super Bowl XXXV by himself, thinking there must be some way to find other Ravens fans in the United Kingdom. After the win netted him about 600 pounds thanks to a wager, Cressey spent the money on two things: Ravens memorabilia and starting a fan club.
After the Ravens' Super Bowl win, "Touchdown" magazine published a letter from another Ravens fan, Paul Baddock. Finally, Cressey knew he wasn't alone, but there was still a long way to go.
"Even after the Ravens' Super Bowl win, there were very, very, very few Ravens fans in the U.K.," Cressey said. "We had to scratch around the internet to find people and make a fan club. There were literally four or five of us."
Cressey and Baddock exchanged letters and phone calls for a while as long-distance football pen pals. They talked a lot about how to grow their two-man club, and with the rise of the Internet in the early 2000s, Baddock eventually reached out to fans on American message boards, thinking he may stumble upon other fans in his own backyard.
Their first stop was a message board led by Doug Phillips, who is the president of Ravens Nest No. 1 based out of Harford County. That's where they got their first invitation to come meet their American counterparts and see a game.
"Going to a live game in Baltimore was the holy grail," Cressey said.
With a fledgling fan group named the "UKRavens," Cressey made his first pilgrimage to Baltimore in October 2004. He made a second trip in 2006 and introduced locals to the art of throwing celery, which is a Chelsea Football Club (soccer) tradition.
That's when he met up with Ben Mortimer, a Brit who had moved to Baltimore in 2001 for a job, met his wife here and stayed for 10 years. The Mortimers hosted a group of four: Cressey, Baddock, Chris Quayle and Ben Stockwell.
Singing British songs while throwing celery sticks at unsuspecting Oakland Raiders fans (generally not regarded as the most warm and fuzzy bunch) is still one of their favorite stories.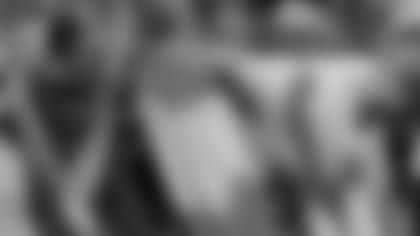 "Suddenly they were getting rained on like in 'Game of Thrones' with celery and everyone was singing the celery song," Mortimer recalled with a laugh. "Everyone took it with good humor."
A slightly larger third pilgrimage was organized in 2009, and that's when a guy named Gordon McGuiness made his first trip over from Scotland.
McGuiness and Stockwell have both gone on to have careers as media members covering the NFL, showing just how knowledgeable these guys have become. Stockwell is the director of analysis for Pro Football Focus, and McGuiness is the website's lead special teams analyst and social media editor.
"The first game I ever saw on TV was Super Bowl XXXV, and I didn't really know what was going on," McGuiness said. "I was hooked."
Eventually, the group had a decision to make: keep the fan club limited to their hardcore fans or try to expand?
Cressey wanted to keep it small and focus on making more trips to Baltimore together. Mortimer, who was a moderator for this website's message boards, wanted to open the UKRavens doors and reach a wider British and Irish audience via social media.
The Ravens' win in Super Bowl XLVII answered the dilemma. With new popularity and exposure, it was time to grow.
Via their website, Twitter and Facebook profiles, they've actively engaged with fans already interested in the Ravens or looking for a team to root for. The UKRavens Facebook page has nearly 2,000 members. Cressey and Mortimer estimate that there may be about another 1,000 Ravens fans living in the United Kingdom.
Now it's time for the next step. On Dec. 13, it was announced that the Ravens would play in London in 2017. Those living there were, to borrow a British term, gobsmacked.
Some of the Ravens fans had attended International Series games before featuring other NFL teams playing in London. The series began with one game in 2005 and has grown to five games this season. The Ravens are one of eight teams who had not yet been over.
"We were desperate for it," Cressey said.
What excites Cressey the most is that he can now share his passion with his loved ones. His wife, son, nephew, niece and brother-in-law will all be attending their first NFL game. Mortimer will be bringing his family as well, as they both trek from Yorkshire County, about 200 miles north of London.
While the Jacksonville Jaguars will be the home team, and they have a large following considering this will be their fourth time playing at Wembley Stadium, Cressey and Mortimer expect more robust support from those in purple and black.
They'll both shout "O!" during the national anthem, and they both think it will be quite loud on third down when the Ravens defense is on the field.
"I think this is a good season to come over because most of the people here who support the Ravens support them because they like smash-mouth, defensive football," Mortimer said.
"This is going to be a big trigger that is going to set off a lot more Ravens fans here."