If the crowd noise were turned all the way down when the Ravens defense is on the field at M&T Bank Stadium, fans would hear Courtney Upshaw talking the most.
Yes, that's right, soft-spoken Upshaw.
"There's a good chance of that," Ravens Linebackers Coach Ted Monachino said.
Upshaw is overlooked in the Ravens defense by fans and the media, but not his opponents. It's somewhat understandable considering he has two Pro Bowl teammates at his same position with Terrell Suggs and Elvis Dumervil. They get the sacks. Sacks get attention.
But their presence doesn't diminish what Upshaw does for the Ravens defense. Upshaw is one of the unit's most important pieces, and entering his third season, his influence is only growing.
"I just love the way the kid plays," Suggs said.
"Anytime you have guys like that on your front line, obviously you have a very good defense. He's one of those guys who speaks softly, but carries a big stick. He doesn't do much talking, but his play speaks volumes."
Upshaw is a standout player for three primary reasons that don't show up in the box score or advanced metrics: physicality, intelligence and position flexibility.
The first thing that stands out is the physicality.
When Ravens fullback Kyle Juszczyk was asked which teammate he least likes to block one-on-one, he had no hesitation.
"Courtney Upshaw," he said. "The man is massive. By far, I think he's the toughest guy to block on our defense."
"Size is number one. But for such a big guy, he's so athletic and he can use his hands."
Upshaw is listed at 6-foot-2, 272 pounds. His waistline often is the subject of headlines, but Upshaw isn't in the mold of your typical outside linebacker. His bigger size is part of what makes him effective.
"He's as physical as any player I've ever coached," Monachino said. "There are a lot of guys that can smash into guys. Courtney doesn't have to smash into guys to be physically dominant. He is strong, he is explosive in a small space, and he is so technical that it becomes easy for him."
While Upshaw doesn't often make it into highlight reels with sacks (he has three in two seasons), he has sometimes done so with big hits.
In Super Bowl XLVII, Upshaw got uncharacteristically beat around the edge by quick 49ers running back LaMichael James. Upshaw got back to his feet and chased the play from behind. After James was held up by a couple Ravens, Upshaw delivered a brutal hit to pop the ball out. The Ravens recovered, which was an early turning point in that game.
Upshaw also was the player responsible for knocking out Pittsburgh Steelers running back Le'Veon Bell on the goal line last season.
"All you've got to do is look at the guy and you know he's going to be a pretty tough out," Monachino said. "There's still a major element of that in this game. If a guy can line up and physically dominate a guy across from him, it changes that little area of the field."
Upshaw's physicality with tight ends and offensive tackles creates a key advantage when it comes to stuffing the opponent's run game.
The Ravens defense is built around sealing off the edges and forcing plays to the inside linebackers. It's partly why Ray Lewis routinely had more than 100 tackles. It's also why Upshaw has averaged just 45 tackles. Running backs often simply see a "do not run" sign when they head his way.
Head Coach John Harbaugh called him a "premier" run defender. Defensive Coordinator Dean Pees explained further.
"Sometimes when he sets the edge on a tight end, the ball may cut back immediately, and guys don't see that," Pees said. "You see the cutback, you see the play, but you don't really know why the guy cut back. Well, he cut back because Courtney has the tight end knocked about two yards back in the backfield."
Upshaw was drafted in the second round in 2010 with the idea that he would replace Jarret Johnson, who departed for San Diego via free agency that offseason. Johnson was a beloved player in Baltimore for his gritty play. Upshaw has done the same, but even better.
"When I was drafted here, I knew what they brought me in for; that was to be a run stuffer and set that edge. That's what I do best," Upshaw said. "I feel like, honestly, I'm the best in the game at setting that edge in the run game."
Setting the edge isn't the only thing Upshaw is asked to do, however.
Upshaw can line up at either outside linebacker position. He can play defensive end with his hand in the dirt. He can even line up inside at defensive tackle. Upshaw could play inside linebacker too if needed.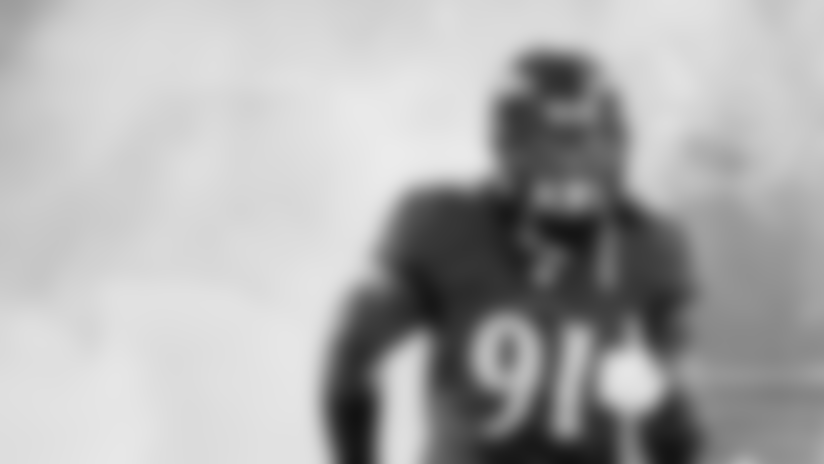 That position flexibility helped the Ravens tremendously two years ago when they were battered by injuries on their defensive front. It also helps the defense be more multiple. They can bring in many different combinations to best utilize each player's skill set.
"There are times in a single practice that he'll play seven different positions," Monachino said. "That's not only due to him having some dominant physical traits, but it's also due to him having a very high football IQ."
That football intelligence is what has led Upshaw to taking on the Ravens' defensive calls.
Everybody thought Lewis was the one making the calls to adjust the defense in Super Bowl XLVII and beyond. Nope – it was Upshaw.
"It's not because Ray couldn't do it. It's because we didn't want Ray to do it," Monachino said. "We wanted Ray to be Ray and understanding that he's so far ahead from a preparation standpoint that he's going to use his instincts and let somebody else handle making the calls."
Each defensive play is called by Pees. That is relayed to the Mike linebacker, who gives the play to the players in the huddle. Once the team is in formation, however, it's Upshaw who runs the defense. He's the one who makes adjustments and gets everyone on the same page.
Upshaw's job description requires him to communicate with the defensive linemen, the inside linebackers and safeties.
Most teams use their Mike inside linebacker to made adjustments, and the Ravens considered going to that model last year after Lewis retired. But, ultimately, they kept the job in Upshaw's hands.
"He's one of our very smartest players," Harbaugh said.
"Courtney has trained his mind and his eye to see the game a different way," Monachino added. "Some guys see the game through a straw. Courtney Upshaw sees it through a bay door."
Upshaw didn't dominate mentally when he first arrived in Baltimore. He was familiar with complex schemes due to playing in a pro-style defense at Alabama, but he played Suggs' role in Alabama's defense. He was cut loose to make plays.
"Coming in my rookie year, it was something new," Upshaw said of the mental preparation. "But I fell in love with it."
But Upshaw is still waiting for Ravens fans to fall in love with him.
He understands that the attention goes to the playmakers, a classification he would like to fall in more after notching 30 tackles and 1.5 sacks last year.
"But at the end of the day, I feel I do my job well," Upshaw said. "I really don't mind not being talked about."
So Upshaw's coaches and teammates – even those competing with him for snaps – will talk for him.
"Courtney is a very mature person on and off the field," Dumervil said. "He does a lot of good things for us, a lot of things maybe as not as fancy or as decorative. But what he does, he brings a lot to the defense. He's a real valuable guy for us."