Only minutes into a big announcement of the Ravens' plans for a $1,000,000 renovation of Mergenthaler Vocational-Technical High School's football field, it was clear such an endeavor was a worthy cause. 
Dust kicked up from the soles of team president Dick Cass as he strode through random patches of crabgrass to the podium.
Cornerback Chris McAlister, who contributed one-fourth of the money to the Ravens' efforts through his Chris McAlister Foundation, recalled a desperately worn tract in California where he once played high school ball.
Even after the news conference, Mayor Sheila Dixon could barely get her shovel into dirt that had hardened to concrete consistency.
But Tuesday's event wasn't simply about overhauling such a desolate area.  Looking at the royal blue-and-gold clad Mervo football team that proudly wore their uniforms and contemplated the future of their squad, one could tell that this event was more about pride in the students, their families and the community of Northwest Baltimore.
"We believe in the power of sport to change communities, and we think football is a wonderful sport," said Cass.  "Friday night football - and hopefully Saturday night football - can bring this community together."  
The Ravens gathered donations from McAlister, owner Steve Bisciotti, the All Community Team Foundation and a grant from the NFL Youth Football Fund to make what they hope will be a field housing up to three high school contests per weekend, in addition to the Northwood Football League, which boasts 300 youth (ages 5-14) through its football and cheerleading programs.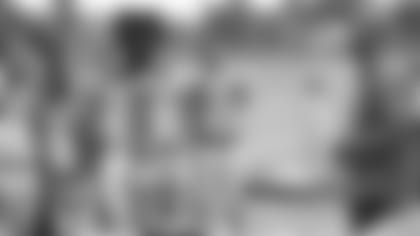 "This is something that hits home for me," McAlister said.  "At one of the high schools I went to, there were a few other teams that played on the field.  By Week 5, the middle was gone.  By Week 7, the edges were going.  It's a chance to give back to a community that has given me so much over the years."
Mervo's stadium will be outfitted with the same Sportexe turf as M&T Bank Stadium, along with expanded stands to double capacity and a ticket booth that can raise revenue and help maintain the improvements. 
A similar effort was completed in 2006, when the Ravens renovated Lumsden-Scott Stadium at Baltimore Polytechnic Institute/Western High School.  Since then, the over $100,000 generated by Poly's stadium has gone back into the school system's athletic programs.
"We want to give everyone in this area an opportunity to play on a first-class football field," Dixon said with a smile.
Dixon, a former cheerleader who promised she would pick up pom-poms upon the project's completion, sees specific accomplishments that can be met with the new facility.
"It can help them cultivate a team experience, help them become physically fit and handle some of the issues they have to deal with in life and school," the mayor explained.  "But ultimately, there is the chance to possibly get a scholarship to college - because this team is going to be good - to go on in college and finish their degree, and maybe even play for the Ravens."
In an exclusive Q&A session before the press conference began, McAlister was another role model assuring the players that anything is possible. 
An eager group of students asked him all types of questions: What was his favorite high school memory?  Who is the hardest to cover?  Did he think he would make it to the NFL in high school? 
To the latter question, the three-time Pro Bowler replied, "Not really.  That wasn't until I actually went to college at Arizona.  I had to get my grades up.  You can't be an athlete without being a student first. You can be a student without being an athlete, but to be successful, you need to do the work in the classroom, too."
On-field work won't start for the Mustangs until late summer, but the chance to begin training camp on a safe and state-of-the-art surface excited the prep players.  Envisioning the same lush green turf the Ravens enjoy sparked thoughts of playing on an even bigger stage.
"We needed help with this field," said team captain Jeremiah Conway.  "It gets kind of rough out here in the summer when you're going through two-a-days.  It's almost like concrete. Hopefully, we have a really successful season, and we can play at M&T Bank Stadium for the state championship."