*In the weeks leading up to the NFL Draft, scheduled for April 25-26, BaltimoreRavens.com will take a look at the top collegiate prospects from each position group. *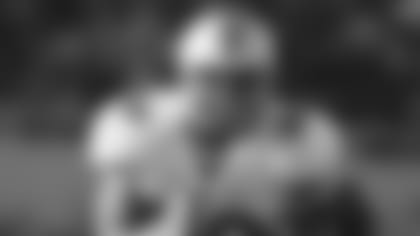 The running backs are featured today. *
Andre Brown (6-foot, 220 pounds) NC State -Brown is a bruiser that does his damage between the tackles. After three years in a running-back-by-committee approach in Raleigh, Brown had a productive senior season, finishing with 175 carries for 767 yards (4.4-yard average) and seven scores. He does, however, need to prove he can stay healthy, as he had two surgeries on broken bones in his left foot during his collegiate tenure. But, for a big back, Brown ran a 4.37-second time in the 40-yard dash, which is impressive.
Donald Brown (5-foot-10, 210 pounds) Connecticut -Known as one of the highest-character players in college football, Brown is also an all-around athlete. The former Husky was the only running back in the nation to surpass 2,000 yards, averaging 160.23 yards per game to set school and Big East season records with 2,083 yards on 367 carries (5.7 avg.). He also scored on 18 touchdowns and finished third on the squad with 21 receptions, good for 125 yards.
Shonn Greene (5-foot-11, 227 pounds) Iowa -Academic problems forced Greene to enroll in Kirkwood College in 2007 before he could rejoin the Hawkeyes the following year. When he did, Greene went on to become the Big Ten Offensive Player of the Year and won the Doak Walker Award, which is given to the nation's stop running back. Greene piled up 1,850 yards on 307 attempts (6.0-yard average) and a whopping 20 touchdowns.
Rashad Jennings (6-foot-1, 231 pounds) Liberty -Jennings once was a 265-pound redshirt freshman at Pittsburgh, but he transferred to Liberty to help care for an ailing father. While there, he rededicated himself to the game, losing over 30 pounds and trimming his body fat. As a senior, Jennings was the Big South Conference Player of the Year and a finalist for the Walter Payton Award, given to the top player in the FCS ranks. He collected a school and league single-season record 1,500 yards, setting Big South annual marks with 263 carries (5.7 avg.) and 17 touchdowns.
LeSean McCoy (5-foot-11, 204) Pittsburgh -In only 35 games as a Panther, McCoy scored 36 touchdowns, 35 on the ground. He came out as a sophomore, but his production speaks for itself. Last year, he tallied 1,488 yards and 21 scores on 308 attempts. More of a scat-back, some analysts have compared him to Steelers running back Willie Parker.
Knowshon Moreno (5-foot-11, 217 pounds) Georgia -Moreno is the next in a line of great Bulldog rushers, following Herschel Walker and Garrison Hearst. In only two seasons, he almost broke school records, as Moreno ranks sixth on the school career record list for rushing attempts (498), rushing yardage (2,734) and rushing touchdowns (30). Moreno is known as the all-purpose back, one that can get yards between the tackles, sprint around the edge and catch passes out of the backfield.
Chris "Beanie" Wells (6-foot-1, 235 pounds) Ohio State -Wells was regarded as the most powerful tailback in college football. As a Buckeye, he suffered multiple inijuries - a left ankle sprain, a right wrist sprain and a thumb fracture in 2007; a right foot sprain, turf toe, a hamstring strain and a concussion in 2008 - but he only missed three total games. Last year, Wells boasted 207 attempts for 1,197 yards (5.8 avg) and eight touchdowns, and his average of 119.7 yards per game ranked sixth among Division I running backs.