Torrey Smith can't describe where he's improved.
"I just know what it feels like to do things the right way," he says. "I watched Anquan [Boldin] do it, and I know what it's supposed to look like."
Smith spent his first two seasons in the league watching and learning from Boldin. With the hard-nosed veteran now suiting up for San Francisco, Smith is top dog in Baltimore's receiver room.
Despite being just 24 years old and entering his third season, Smith is going to be relied upon heavily in the Ravens' passing game this season.
The media buzz when camp started was whether Smith was prepared to step up to the plate. He's followed that up with what he calls his best training camp yet, and his blazing 77-yard catch and run for a touchdown in the Ravens' second preseason game was proof.
Asked if he sees a bona fide No. 1 receiver when he looks at Smith, Ravens veteran safety Michael Huff didn't hesitate.
"Oh yeah, definitely," Huff said. "He does it all. He catches, he runs, he blocks, he runs reverses. He's a No. 1 receiver that you can put out there and not have to worry about."
Smith has always been a burner. The second-round pick out of Maryland has been among the NFL's leaders in average yards per catch because he's such a big-play target. Last year, Smith's 17.4 yards per game ranked fourth in the NFL.
But to become a top-flight, No. 1 receiver, it's going to take more than that. That's where Smith's game has grown. Smith says he's improved everything. He couldn't identify a single aspect of his game.
"He's made a lot of big plays, but he's made a lot of small plays," Head Coach John Harbaugh said. "He's caught a lot of stop-nines, hitches and crossing routes. He's done a great job of downfield blocking. … There are really no minuses with Torrey."
Huff squared off against Smith last year as an Oakland Raider. He said the scouting report then was that Smith could catch all the deep balls.
"I didn't know he could catch the little hitches and run precise routes like that until I actually got here and see how much work he puts in, and how hard he works every day in practice," Huff said.
"He's a beast. No matter if he can catch a five-yard slant and take it 80 [yards], or he can beat you outside with the deep ball, he's got a full game as far as a receiver goes. He's not really one-dimensional; he can do it all."
That doesn't come without work. Smith has always been known for his work ethic. This year has been no different, if not even better.
Offensive Coordinator Jim Caldwell was around a couple elite wide receivers during his time in Indianapolis. He coached wide receivers Marvin Harrison and Reggie Wayne, two decorated professionals who have gone to 14 combined Pro Bowls.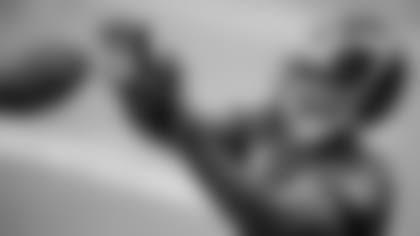 "It's not surprising [that] he's getting better all the time, and it's not surprising because of his attitude," Caldwell said.
"Every guy that I've seen have that hunger, discipline and passion like he does, the sky's the limit. He approaches it like a true professional. I don't see any reason [why he can't be a No. 1 receiver]."
So what defines a top receiver?
Inside the team, it's production and respect. Smith feels he's earned that with his work ethic and what he's done between the white lines.
"I have a lot of respect in the locker room both on and off the field," Smith said.
Smith came into the league at a similar time as the rest of the team's receivers. He was drafted two rounds before Tandon Doss. He came in with Maryland teammate LaQuan Williams. Deonte Thompson and Tommy Streeter came in one year after.
"We all have grown together. Sometimes I think it puts me in a bit of an uncomfortable spot of how people view you," Smith said with a laugh. "But the guys in this locker room trust and believe in me, and that's what's important to me."
Outside of the Ravens' building, Smith thinks he'll only be viewed as a top receiver if he hits the 1,000-yard marker.
Smith has posted strikingly similar stats in his first two years. As a rookie, he caught 50 passes for 841 yards and seven touchdowns. In his second year, he had 49 receptions for 855 yards and eight touchdowns.
"I feel like I should have been [at 1,000 yards] the past two years," Smith said. "In my eyes, if I go out there and play like I'm supposed to play and how they expect me to play, then I think I can easily be considered like that."