If the Ravens trade back from pick No. 22 on Thursday night, it won't be a surprising move.
When General Manager Eric DeCosta was in a similar situation in 2019, he traded down from No. 22 to No. 25 and acquired fourth-round and sixth-round picks from the Eagles. Then with the 25th pick, the Ravens drafted wide receiver Marquise "Hollywood" Brown, who became their No. 1 receiver the next three seasons.
With only five picks in this year's draft, its fewest since 1999, the Baltimore could again trade down to acquire at least one additional pick. If the Ravens only trade down a few spots, they could still leave themselves in position to draft one of the cornerbacks being mocked to them like Deonte Banks, Joey Porter Jr., or Emmanuel Forbes, or wide receivers Jordan Addison, Quentin Johnston or Zay Flowers.
"Trading back is always a possibility with the Ravens," ESPN draft analyst Todd McShay said during a conference call. "They get it, man. They understand the importance of taking advantage of teams who are desperate to move up, getting more picks. This is a quantity game over a quality game in terms of draft picks."
ESPN draft analyst Mel Kiper Jr. believes the Ravens are sitting in a sweet spot at No. 22, knowing they can probably trade down a few spots and still draft a top corner.
"They could move down, and the corner I think they could look at is DJ Turner from Michigan," Kiper said during a conference call. "Coached by (Defensive Coordinator) Mike Macdonald at Michigan, ran 4.26 (seconds in the 40-yard dash) at the combine, had a great two years for Jim Harbaugh at Michigan. I have him going to the Giants in the first round, but there's no guarantee he's a first-round pick. So if you move down and you're the Ravens, you could look at him in the late first or the early second round."
DeCosta did not dismiss the possibility of trading down during the team's pre-draft media press conference. 
"I think the chances for us to be able to do it are pretty decent," DeCosta said. "Of course, if we're in love with somebody while we're on the clock, we're going to make the pick. We always have to gauge that. How strong do we feel about the prospect who's available versus a chance to go back and get additional picks?"
As DeCosta suggested, the Ravens do not feel pressure to trade down. If they simply stay at No. 22, they can draft a player with the potential to make an immediate impact, the way first-round picks Kyle Hamilton and Tyler Linderbaum did last season. 
Meanwhile signing wide receivers Odell Beckham Jr. and Nelson Agholor in free agency has given Baltimore more leeway to address other positions. Unlike teams that are in rebuilding mode who covet multiple picks, the Ravens have made the playoffs four of the last five years and already have a deep roster.
"I wouldn't be surprised if we made more than five picks, but right now, our team is ready to win," Director of College Scouting David Blackburn said on "The Lounge" podcast. "We need guys who are going to come in and help us elevate, come in right away and contribute. With five picks, and we've got five players who can come in and do that, I'm all for it. We're kind of really more about quality than quantity right now."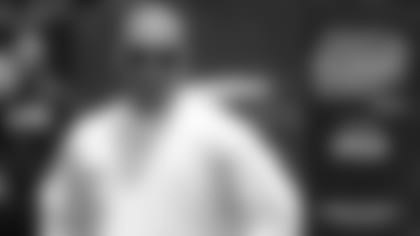 454: Draft Talk With Director of College Scouting David Blackburn
Director of College Scouting David Blackburn shares his take on top WR and CB prospects, the QB class, the possibility of a trade, and what it takes to become an NFL scout.