Ravens tight end Dennis Pitta woke up the morning of Sunday, July 28, rolled over and saw an incision on his right hip about 12 inches long.
He knew he had suffered a major hip injury in practice the day before, judging from the excruciating pain, but he went to Union Memorial Hospital thinking doctors* *might just need to pop his hip back into place.
But because there was a bone fragment that kept falling into his hip socket, full-blown surgery was required.
Within minutes, Ravens Chief Orthopedic Surgeon Leigh Ann Curl came into Pitta's room.
"She gave me a couple scenarios," Pitta said. "One of which was, 'You may never be able to play football again.'"
Everything to that point in Pitta's life was in order, reliable.
Joe Flacco threw him the ball, he caught it. He did it 75 times for 832 yards and 10 touchdowns last year, including the playoffs, to become Flacco's most trusted target.
Off the field, Pitta was married with a two-month-old son. He was headed into a contract year, likely ready to become a multi-millionaire after a breakout 2012 campaign.
Suddenly, Pitta's world was full of uncertainty. His career was in jeopardy.
"You see this kind of injury in high-speed car accidents and things like that," Pitta said. "But those people aren't trying to get back on the field to play football again. Everything was so up in the air."
The Injury
It was a play Pitta and Flacco had executed countless times before.
It was the first day of contact drills and third overall at Ravens training camp. Pitta beat the linebacker over the middle and got ready for a jump ball in the end zone with safety James Ihedigbo draped on his back.
As he was landing, Pitta could feel all his weight shifting to his right side. After that, it was a blur.
"All I could think of was, 'Relieve me of this excruciating pain,'" Pitta recalls.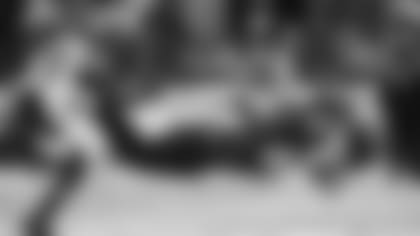 Ihedigbo's arm was trapped under Pitta. He didn't want to move as Pitta was moaning in pain. Pitta could hardly move enough to release his arm. He was in the fetal position, begging for any contortion of his body to relieve the pain but not being able to find it. His teammates circled around him.
A cart picked Pitta up, and he gripped the sides of it with all his strength as he bit into a towel draped over his head. Emergency medical technicians tried to lift him onto a stretcher, but Pitta told them to put him down for fear that he would pass out from the pain. They slipped a flat board under him.
Pitta felt every bump on the field and on the road to the hospital. They gave him morphine to numb the pain, but it did nothing to take the edge off. It was two and a half hours before Pitta was put under by an anesthesiologist.
The surgery was done immediately. Pitta's wife, Mataya, and son, Decker, were in Arizona at the time, but they quickly flew to Baltimore and were at the hospital when Pitta woke up.
Dr. Curl came into the room and told him people would probably compare him to Bo Jackson, the superstar Los Angeles Raiders running back who had his career cut short after four years with a hip injury. Pitta had just three years in the league.
"I was fortunate to have my wife and little baby there," Pitta said. "As hard as it was to swallow, I think it helped put things in perspective. It made me realize what really was important. If I was able to play football again, then great. If not, I had so much in my life."
Just about everything went as well as it could have with the surgery. The damage wasn't as bad as it could have been. Pitta, in a warped way, was kind of lucky.
Post-surgery, the best-case scenario was that Pitta would make a full recovery and be able to return to football next year. But even that was still in doubt.
On July 28, this website ran a story with the headline, "Confirmed: Dennis Pitta Done For Season With Hip Injury." Head Coach John Harbaugh said, "It's the type of thing that he's not going to be able to come back from this year. There's enough damage in there to preclude that."
The Waiting Game
The next part was most brutal. Waiting.
Due to inflammation from surgery, doctors couldn't get an extensive look at the damage or surgical improvements from the MRI or blood-flow tests.
For two weeks, Pitta sat around wondering whether he would ever suit up again.
"Those two weeks were difficult just because I didn't know what was going to happen," he said. "I didn't know what my future held. I didn't want to think about it."
Did Pitta think about the money? With the injury, he could potentially see millions disappear.
"It's not something I honestly could really think a lot about because it wasn't quite reality yet," he said. "Sure, this is a contract year, and I could have potentially signed a long-term deal with the Ravens, which would have been great and we were looking to do. But once I got injured, it was the last thing to cross my mind.
"First and foremost was our family and their support. Second, I just wanted to be healthy again where I could play with my kid and not have to worry about my long-term health."
Pitta focused on spending time with his family to take his mind off the thoughts. He would normally be consumed with training camp, so in a way it was a nice change.
But it didn't take long before Pitta pondered what his post-football career would be.
"I had plenty of time to think about that," he said. "I thought a lot about it and still don't know what I want to do after. You would think I would come up with something."
The business education major, who is a few credits short of graduating from Brigham Young University, still doesn't know.
Finally, two weeks passed and Pitta could go in for more tests.
"After the MRI, we got another option," Pitta said. "I could potentially get back this year."
The Grueling Rehab
As soon as Pitta received the good news on his MRI, a timetable was set in place. He could potentially return to play football in late November or early December.
"We didn't really know whether we would be able to reach that or not," Pitta said.
"There's not a lot of documentation on an athlete with an injury like this."
With a torn ACL, for example, doctors know so much about it because it's such a common injury. The timetable for return is clear and they know what athletes should be feeling every step along the recovery path. With the hip, they* *were unsure.
The Ravens placed Pitta on the injured reserve – designated for return list in hopes that he could pull off the miraculous recovery and help them down the stretch. It was hard to imagine after seeing Pitta on crutches for two months straight.
"Just simply walking was a whole new task for me to learn," Pitta said.
Pitta rehabbed nearly every day. It began with simple leg lifts, which were a challenge. He moved to the anti-gravity treadmill, which held all of his body weight off the machine as he simply moved his legs. More and more weight was added until Pitta could walk in water.
When he could finally walk, his balance (which is part of why he is an excellent route-runner) was entirely thrown off.  He had to "recalibrate" and re-learn balance.
Eventually, Pitta was walking routes, then jogging them with a trainer throwing him passes. He joked that it gave him a good opportunity to work on his spectacular catches since the passes were all over the place.
"Rehab is always grueling," Pitta said. "Once we had a goal in mind that I could eventually get on the field, I just focused on that goal and stayed patient. There are highs and lows in rehab. At points you feel like you're making a lot of progress, and at another point you feel like you plateaued."
Apart from his teammates, Pitta worked. As the Ravens offense struggled and tight ends Ed Dickson and Dallas Clark tried their best to fill in, Pitta had to watch.
His teammates took notice of his work, though.
"He was here on all the off days when we weren't here. He would stay here later than we were. A lot of people had gone home and laid down and he was working in the cold tub," Dickson said.
"The doctors can only push you so far. They can say, 'You've got six months to heal.' It's up to you to say, 'OK, it's going to take me four months,' and put that work in. That's the kind of person Dennis is."
The Return
Pitta thought he had a chance to come back to play against the Steelers. The Ravens left it up to him, and he decided to give it a little more rest until the next week against the Vikings.
First game back – a blizzard. They weren't ideal conditions, for sure.
Pitta didn't know what to expect. His rhythm with Flacco in practice wasn't on point as
much as usual. It wasn't like he was the same exact guy who stepped off the field after Super Bowl XLVII.
When Flacco's first two passes bounced off Pitta's hands, it was a weird feeling for a guy who generally catches just about everything.
But with the Ravens trailing the Vikings by five points with just more than two minutes remaining, Pitta jogged into the game. His defensive teammates on the sideline were screaming to throw in the ball to the tight end.
Pitta's balance looked just fine as he shook his defender at the line of scrimmage and got immediate separation. And sure enough, Flacco found his guy.
Pitta came to the sideline and first got a big hug from Harbaugh. Outside linebacker Terrell Suggs, the man who dubbed Pitta "American Express," and, informally, the "Great White Tight End," was second.
"When you see the work a guy puts in in rehab in this league to get back from an injury like that, then you appreciate a moment like that," Harbaugh told reporters afterward.
"Everybody knows I'm his biggest fan, especially on this team," Suggs said. "I'm just happy to see him back out there doing what he does best, and that is helping us win games."
Now, Pitta could be a difference-maker for the Ravens down their final three-game stretch as they scratch to make the playoffs for a sixth straight year.
The Ravens struggled in the red zone before last weekend against Minnesota. They needed a bump on third down. Once Pitta returned, the Ravens went 3-for-3 in the red zone, scoring touchdowns every trip. Of his six catches for 48 yards, four were for first downs.
"He brings everything together in a way that really helps us out," Flacco said.
Now what lies ahead for Pitta? Football is back, but is his future as certain as it once was?
Pitta has three more regular-season games and potentially the playoffs to prove himself and earn the long-term contract that seemed destined to come his way. Dickson is also in a contract year, but he spoke as if he's getting in line behind Pitta.
"You can't cut the man's legs out from under him," Dickson said. "I'm talking about Dennis and Joe. They need each other. You franchise the quarterback. You need to give him his ace in the hole. Not saying I can't be here as well, but that's what he needs."
Does the contract cross Pitta's mind? "It's not something I'm worried about," he said. "I learned early on this year that things aren't always in my control."