Baltimore's secondary was back under attack Sunday and the situation seemed to worsen when starting cornerback Fabian Washington went down with an injury at the start of the second quarter.
Enter rookie cornerback Lardarius Webb
.
There were few bright spots in the Ravens' 17-7 loss to the Bengals Sunday, but Webb was definitely one of them.
Given his first chance in an extended role at cornerback, Webb played a large part in patching up Baltimore's pass defense. And in the process, Webb made a bid for keeping a starting spot.
Webb notched six tackles -- fourth-highest on the team -- including one for a loss in which he upended running back Cedric Benson. The Bengals specifically targeted the rookie, but Webb stood tall against quick routes and didn't surrender a single completion of more than seven yards.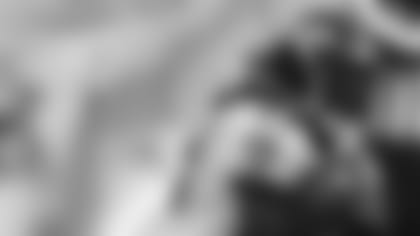 "That's kind of what you saw in college," head coach John Harbaugh said. "He played well. He flies around the ball and is a good tackler. He covered well and took advantage of his opportunity due to an injury."
Webb was a two-time Division I-AA All-American while at Nicholls State, where he played safety, quarterback and return specialist. Despite playing for a low-profile school, his athleticism and versatility made many consider him an NFL Draft sleeper and the Ravens selected him in the third round.
Webb's role at the beginning of his first NFL season was mostly limited to special teams. It only took him five games to take over as the Ravens' No. 1 kickoff returner and he even notched a game-changing 95-yard touchdown return last week against the Broncos.
Webb's progression through the cornerback ranks has been slower, however. The Ravens tested him often during training camp and he showed his athleticism and knack for finding the football. He had a game-saving pass deflection in the end zone versus the Jets and eight tackles against Carolina.
But the 5-foot-10 cornerback was still a bit raw and was placed behind Chris Carr and Frank Walker on the depth chart.
Webb broke out last weekend against the Broncos. In addition to his touchdown, he got his first crack as the nickel back when Walker was a healthy scratch. Webb made his first stop from scrimmage and finished with four tackles on part of a defense that held Denver to 200 total yards.
On Sunday, Webb became the No. 2 cornerback when Washington went down with a thigh contusion (a bruise) 17 seconds into the second quarter. Washington had just been beaten for a 20-yard gain on the first play of the Bengals' third series when he hobbled to the sideline.
By the time Webb entered the game, the Bengals had already scored two touchdowns, piled up 86 yards through the air and gained 36 yards on two pass interference calls.
The Bengals immediately went right at Webb with a stretch run. The cornerback threw his body into Benson's legs, sending the running back crashing to the turf for a 1-yard loss.
"That's just how I play ball," Webb said. "I love the game, just like everybody else on the defense. We all fly to the ball. I just had to be me, and I like to play physical."
Cincinnati finished that drive with a field goal but was held scoreless for the remainder of the game. Webb was occasionally matched up against Chad Ochocinco, but mainly took on veteran wide receiver Laveranues Coles, who replaced injured wideout Chris Henry.
Coles made three receptions for 18 yards when facing Webb. They were mostly quick throws in which Webb closed on the ball well to bring the receiver down. In addition to his one tackle for loss, Webb made a big hit on Benson in the third quarter that held Benson to a three-yard gain.
"I played safety in college, so that's what I had to do all the time," Webb said. "Now, when the play is called, you have to step up. They're going to bounce it to you, you have to make a play. We play 'pass-first' around here, so when the time comes I'm going to make the tackle. I'm not going for a big hit or be over-aggressive. I just go make the tackle and get the guy down."